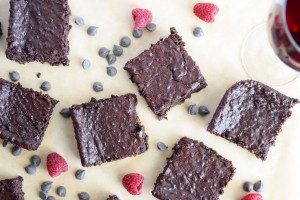 It's almost Valentine's Day and I still have no idea what to get my husband. His birthday is right before, so I was able to find something nice for that. But I'm drawing a blank for this year's romantic holiday. I'd love to get him something special and nice, but as a stay at home mom, I feel bad having to spend the household money on gifts. Although he assures me that I could just make him these red wine brownies and call it a day.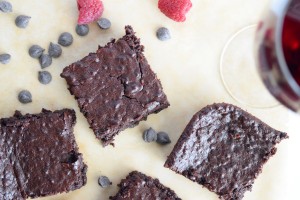 I don't know why I haven't made a brownie recipe post yet. Brownies are the perfect dessert: sweet, rich, and most importantly, chocolate. I've found that with vegan brownies, it's a bit difficult to get that crispy, flaky top, especially when avoiding refined sugar. But something magical happened with these brownies. It probably has to do with all the red wine I poured into the batter.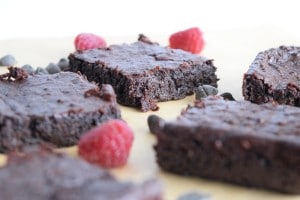 These decadent brownies are perfect for Valentine's Day. They are rich and moist, so much so that they remind me of fudge. The red wine adds to the decadence but gives the brownies that lovely fruity flavor and helps balance out all the chocolate. And you don't need a date to enjoy these, in fact they may be too good to share.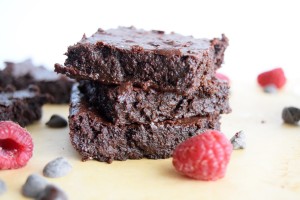 There is quite a bit of liquid in these in order to maintain the maximum flavor from the wine. This means that they may need some extra time chilling in the fridge, or a little extra flour if you like firmer brownies.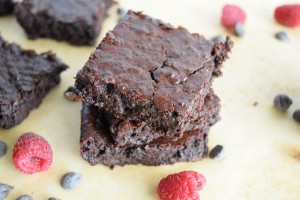 Red Wine Chocolate Brownies
Ingredients:
1 cup chocolate chips (choose sugar free variety for a refined sugar free recipe)
1/2 cup vegan butter
1/2 cup strong red wine (merlot, cabernet sauvignon, etc.)
1/4 cup maple syrup
2 chia eggs (2 Tbsp chia seeds plus 6 Tbsp water)
1/2 cup flour
1/4 cup cocoa powder
3/4 baking powder
1/4 tsp salt
Directions:
Preheat oven to 350 degrees F. Grease a square pan (8 x 8) or line with parchment paper.
Put chocolate chips and butter in a bowl and melt over a pot of water. Take off heat. Whisk in the red wine and maple syrup. Add the chia eggs.
Fold in the flour, cocoa powder, baking powder, and salt.
Pour into the pan and bake for about 30 minutes. Let cool completely before cutting. If too moist, refrigerate until firmer. Enjoy!