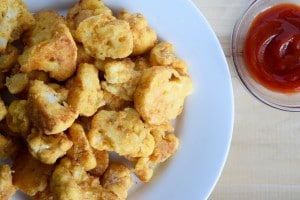 Having plenty of experience with picky eaters, I made a list before Dominik was born. I made a list of the foods that I would never, ever give him as a baby, toddler, or small child. It included: french fries, white bread, macaroni and cheese, plain pasta, and chicken nuggets. These seem to be the foods most offered on kid's menus, as well as the main choices of picky eaters. Developmentally and biologically, this makes sense. Small children just prefer bland and carbohydrate high foods that they are used to.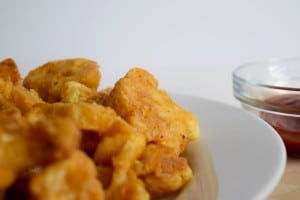 Although Dominik has his picky moments, I'm happy that the food that he loves are all healthy and have either fruits or vegetables in them. And I'm sure that one day, he will experience the joys of the food from the kids menu. But my hope is that he will prefer the fruits and vegetables that he loves now.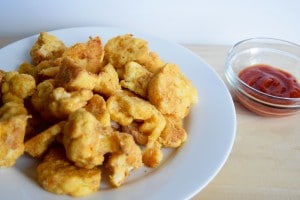 Dominik has had a few items on my list, but with major modifications. The "mac and cheese" was whole wheat pasta with vegetable based "cheese" sauce. The french fries that he had were oven baked, by me. And so I wanted to try to make a vegan chicken nugget. Most of the ones I've tried are kind of meh, mostly due to the breading. The secret is to cook flour covered cauliflower slowly in coconut oil. The slow oven baking helps to crisp up the outside without having undercooked cauliflower.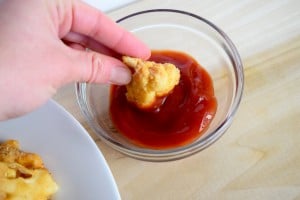 Are these the healthiest vegetable dish? No, as they are technically "oven fried". But it's these are out of this world delicious, and pretty darn close to a chicken nugget. A great way to get a few extra servings of vegetables! This would also make a great side dish for all those Super Bowl parties coming up!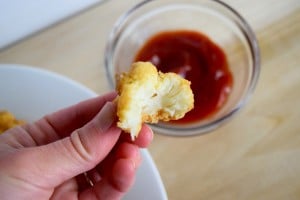 Cauliflower Nuggets
Ingredients:
Head of cauliflower, cut into florets
1 1/2 cups flour (I used whole wheat, but any flour should do, including gluten free)
2 tsp garlic powder
2 tsp black pepper
1 tsp paprika
1 Tbsp salt
5 Tbsp coconut oil, plus a few extra
1 cup almond milk
Directions:
Preheat the oven to 400 degrees F. Put the coconut oil in a baking sheet and place in the oven for a few minutes to melt. Remove from oven and make sure it is spread evenly.
Put the flour, garlic powder, black pepper, paprika, and salt in a large bowl and mix.
In another bowl, pour the almond milk. Working a few a time, dip the cauliflower in the milk and then coat well with the flour mixture. Put all the florets in a single layer on the baking sheet.
Bake for about 15 minutes. Flip the cauliflower, brushing the extra almond milk on any floury spots on the cauliflower. Add a bit more coconut oil to the pan if it's dry. Bake for an additional 15 minutes.
Cool on a paper towel and serve with dipping sauces like ketchup.