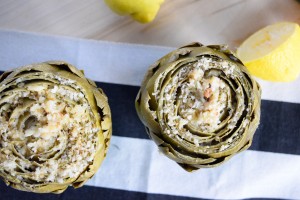 When I moved out of my mother's house and into an apartment, I left with what I thought were pretty good cooking skills. I grew up helping her and my grandmother in the kitchen and was perfectly capable of making my own meals. But suddenly I found myself helpless. I couldn't remember basic steps, and had taken for granted her memorized knowledge of cooking times and oven temperatures.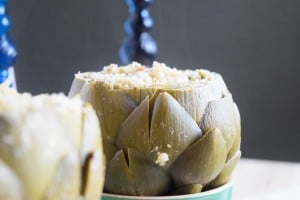 There were a lot of dinnertime phone calls in the early days with questions on how to cook certain things. Eventually, I got the hang of it and started gathering my own habits, recipes, and skills. Except for the artichoke. For some reason, this vegetable has confused me and never came out quite right.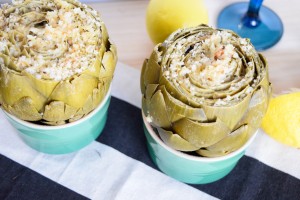 So when I saw some beautiful "frost kissed" artichokes at the store, I was determine to learn how to cook these things. Luckily, my mom was coming over for a visit and was able to walk me through each step, by memory.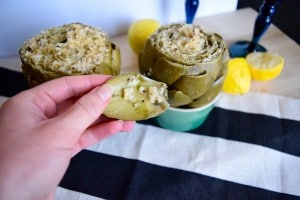 And, oh my goodness, these are amazing. The artichokes come out soft, yet still green. And the stuffing? Garlic and herb heaven. So, thanks mom for the awesome recipe!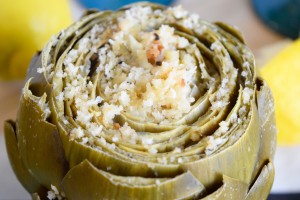 Stuffed Artichokes
Ingredients:
2 artichokes, stems and the top 1/4 cut off
2 lemons, halved
4 cloves garlic
1/2 cup breadcrumbs
2 Tbsp nutritional yeast
2 tsp Italian seasoning
salt and pepper
Directions
Wash and prepare the artichokes. Rub one half of a lemon all over the artichoke and squeeze the juice over the top. Repeat with the other half of a lemon and remaining artichoke.
Fill a pot with a tight fitting lid with water, up to about 3 inches. Add the used lemon halves plus 2 garlic cloves, also halved. Salt and pepper the water. Carefully place the artichokes upright in the water. Bring to a boil, reduce to simmer, and cover with lid.
Simmer for 20 minutes. Turn off heat and remove the artichokes. Keep the pot and it's contents.
In a small bowl, mix 2 cloves of minced garlic, breadcrumbs, nutritional yeast, Italian seasoning, and salt and pepper. Stuff each artichoke with half the mixture. Get it down as many leaves as you can.
Put the artichokes back in the pot of water. Squeeze the other lemon over the artichokes and add a bit of the boiling water drizzled on top. Cover and bring to a boil then turn down to simmer. Simmer for 20 more minutes. Serve with lemon wedges and an empty bowl for leaves.
For a browner top, put the artichokes on an oven safe sheet and broil for a few minutes. Enjoy!