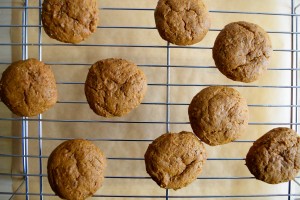 For a while there, I was blogging once or twice a day. I've taken the past few days off from blogging in order to take some time to regroup and spend more quality time with my husband and son. It was my husband's birthday yesterday, so the weekend was spent celebrating with various family members and showering him in gifts.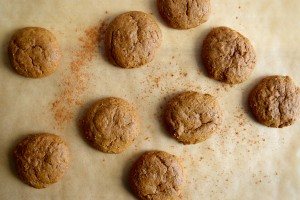 It's been nice to have some more time during the day to play with Dominik. Blogging with a toddler that refuses to nap and doesn't sleep well at night is quite difficult and time consuming. But I missed testing and sharing recipes as well as writing articles about things that matter to me. This made me realize how much I love this blog and how important is to me.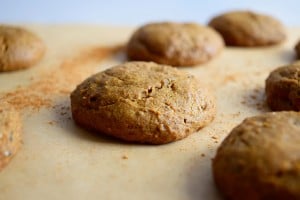 I was particularly excited about this recipe because of how darn delicious these cookies are. I know most ginger cookies are coated in sugar before baking, but I wanted to keep the cookie refined sugar free for my husband's birthday. The maple syrup pairs perfectly with the spices and keeps the cookie soft and chewy.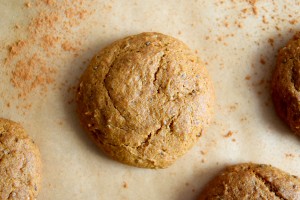 I know Valentine's Day is all about chocolate, but I can't help thinking what a perfect dessert this would be for a date. Spicy, soft, sweet… And a few handfuls of chocolate chips thrown in would be perfect!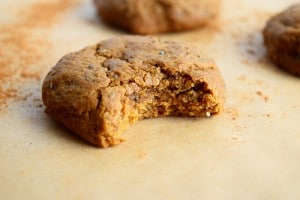 Ginger Molasses Cookies
Ingredients:
2 cups flour
2 tsp baking soda
1 tsp cinnamon
1  1/2 tsp ground ginger
1/4 tsp salt
1 chia egg (1 Tbsp chia seeds plus 4 Tbsp water)
1/2 cup maple syrup
1/3 cup molasses
1/4 cup vegan butter or coconut oil
Directions:
Preheat oven to 350 degrees F. Line a cookie sheet with a silicone mat or grease well.
Mix the flour, baking soda, cinnamon, ginger, and salt in a large bowl. Mix the chia egg, maple syrup, molasses, and coconut oil/butter in a separate bowl. Pour the wet in the dry and mix until combined.
If the dough is too soft, put in the fridge or freezer to firm up. Roll into balls and then squish down into about 3/4 inch disc.
Bake for 10 minutes and let cool completely on a cooling rack. Cookies will still be very soft right out of the oven. Enjoy!