Putting together a nursery or playroom is wonderfully exciting and fun. Themes, colors, furniture, decor, books, toys, clothes, etc.
With Dominik, even before we knew a gender, I knew that I wanted to have a "forest" themed room for him wit lots of animal decor like owls and foxes. We didn't have a traditional nursery for him because we knew that we wanted to co-sleep. So, instead of a crib, we kept the guest bed for when he is older and worked around that. Also, we were renting a home at the time of his birth and were pretty limited in what we could do. With the knowledge that we were moving soon, we waited until we bought our house to create the perfect room for him. A few things were really important to me: it needed to be child safe, eco friendly, and non toxic.
Paint:
One of the first things we chose to go with the theme was the color scheme. We knew we wanted a lot of green and yellow, but I wanted the room to remain bright and neutral. I chose the brightest white I could find. But paint continues to give off harmful compounds into the air long after it's dry. So it was important for us to find zero-VOC paint. Luckily, nearly every store that supplies paint has options that are low- or zero-VOC.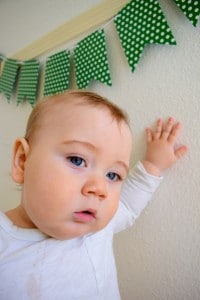 Floor:
When we bought our home, the whole upstairs was covered in carpet. Having just come from a home with wall to wall carpet, we knew that we wanted hard wood floors. Carpet is packed with chemicals and harmful compounds that become airborne. It's also nearly impossible to keep clean and holds in dust, mold, dirt, hair, and other lovelies. It's soft and nice on the feet, but has been so much easier to keep clean, especially with a messy toddler and two dogs. We chose bamboo flooring with low-VOC adhesives. For a warmer feel, we bought an organic cotton rug. Made from scraps that would have been tossed, the rug is also machine washable which has been amazing. You can find it here: Under the Nile Organic Big Rug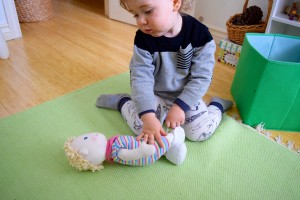 Furniture:
We decided to just keep the guest bed because Dominik did not sleep in his own room yet. It was perfect for overnight guests and it had drawers on the bottom which eliminated our need for a dresser. We also have a sturdy nightstand and a rocking chair. We decided that we didn't need a changing table and stuck to a changing pad on the floor (no more risk of falling baby). Furniture can also have a many harmful chemicals and substances. It may be tempting to repurpose vintage furniture or go for the "shabby chic" look, but older cribs and dressers run the risk of lead based paint or toxic finishes. Cribs can also be outdated and unsafe based on their build. We were gifted a lovely crib that was around 16 years old, but it had a side that dropped down, a feature that is no longer legal or considered safe in cribs. Opt for furniture with nontoxic finishes or low-VOC paint. Also, be sure that cribs are up to standards and tall furniture is anchored to the wall.
Bedding, mattresses, and fabric:
We didn't have a crib and stuck to co-sleeping. But the crib is usually center stage in a baby's nursery. Most crib mattresses are doused in flame retardant chemicals and conventional cotton sheets have traces of pesticides and chemicals from the manufacturing process. Choosing organic mattresses and sheets can help minimize exposure to these chemicals.

Decor:
Decor like framed pictures and high shelving should always be nice and secure. But those things that were out of reach didn't pose any issue. When we started decorating Dominik's room after we moved, he had just started crawling. I very quickly discovered that the way his room was decorated just did not work for a small child. Of course, he instantly gravitated towards the nightstand with the cute lamp sitting on top. We found that no matter how we tried to hide the wire, he kept trying to get to it. Also, his toys were just too hard to get to on the tall bookshelf that we had. And the cute bookends? They ended up on the floor. I realized that the decor that was within his reach needed to be baby proof and safe. So with some careful rearranging, we put the bookshelf on it's side and filled it with toys, removed the lamp from reach, and kept the room as simple as possible.
Remember, this is a child's room. Making it baby proof and safe from the start will save a lot of headache later on. This includes getting rid of small choking hazards, making sure furniture is secure and not old or chipping, toys are age appropriate, electrical outlets are covered, wires are hidden, lamps cannot be pulled down, and cords and other strangulation hazards are out of reach. Although it's less wasteful and more earth friendly to reuse, repurpose, and buy from thrift stores, when it comes to baby items, it's often better to stick to newer things that are up to safety standards.