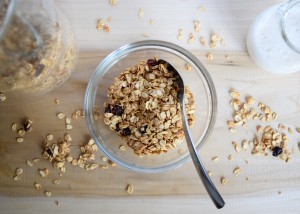 This week was not fun in the sleep department. Dominik woke with a fever in the middle of the night at the beginning of the week and stayed up well into the morning. Although his fever went away quickly, he continued to wake throughout the night all week long. He wasn't upset when he woke, but he wanted to chat and play. It would be cute if it wasn't happening at 3 am.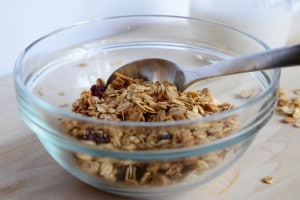 Last night he slept much better, but we'll see how tonight goes. We are no strangers to these middle of the night play times. What makes it harder this time is the fact that he hasn't napped in months, so we haven't had a good way to counteract the exhaustion during the day.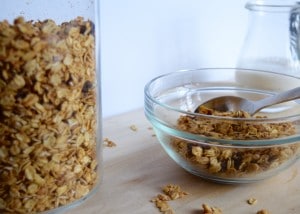 No sleep has made breakfast all the more important. Something nutritious that we keep us going until lunch is a must. I'm always trying to find ways to get protein into my breakfast. I usually go for almond butter in my smoothies, tofu scrambles, chia seeds, or a whole grain. But with only the ingredients to make granola, I thought mixing in some peanut butter would be perfect.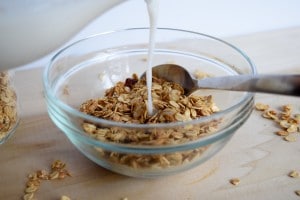 This granola is probably one of my favorite so far. I love oatmeal cookies, so I knew I wanted to make this sweet with plenty of spice. If you like super sweet granola and the peanut butter is not sweetened, stick to 1/2 cup maple syrup. If your peanut butter is sweetened or you prefer less sugar, stick to 1/4 cup maple syrup. This granola is perfect on its own, with dairy free milk, or as a smoothie bowl topper.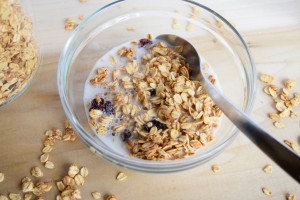 Peanut Butter Oatmeal Cookie Granola
Ingredients:
4 cups rolled oats
1/4 cup peanut butter (sub another nut or seed butter if necessary)
1/4-1/2 cup maple syrup
1/4 cup raisins
1 tsp cinnamon
1/4 tsp nutmeg
1/2 tsp salt
Directions:
Preheat the oven to 325 degrees F. Line a cookie sheet with a silicone mat or parchment paper or grease very well.
In a large bowl, mix all ingredients until combined. If the peanut butter is thick and not very oily, add a few tablespoons of coconut oil or another neutral oil.
Pour the mixture onto the baking sheet and spread evenly. Bake for about 10 minutes. Remove from oven and stir well. Put the granola back in the oven and bake for an additional 10 minutes.
Let cool and store in an airtight container. Enjoy!