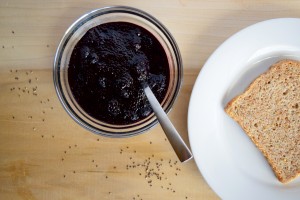 We've still got the cold around here, so poor Dominik has got cabin fever. He keeps asking to go to the park with his buddy, so hopefully we will be well enough soon to get out of the house. It has given me time to bake and cook.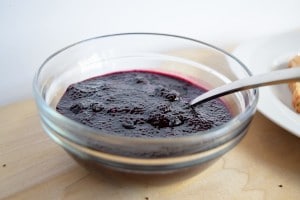 Chia seeds are brilliant. They replace eggs in baking, make incredible puddings, and serve as the perfect thickening agent for jam. I don't like to buy jam or jellies at the store because they usually are packed with sugar and ingredients that I would rather my family not have. Luckily, making super healthy jam at home is so easy! I've seen a ton of chia seed jam recipes around, so I was really wanting to make one of my own.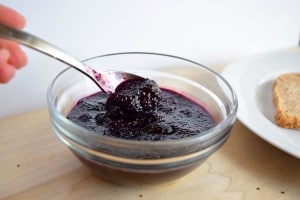 I used blueberries because it was just what I had on hand, but I think any berry would be amazing for this recipe. Larger berries need to be smashed more. My favorite use for this jam is for thumbprint cookies!
Easy Blueberry Jam
Ingredients:
1 cup blueberries (I used frozen)
3-4 Tbsp maple syrup
2 Tbsp chia seeds
2 Tbsp water
Directions:
In a saucepan, heat all ingredients over medium low heat. Stirring often, cook until the liquid has absorbed and the mixture has thickened. I like to mash the blueberries as they cook. It will still be fairly loose.
Transfer to a bowl and let cool completely before using or storing in the fridge. It will thicken more as it cools. If you would like it thicker, add another tablespoon of chia seeds and let sit. Spread on bread or use in recipes!