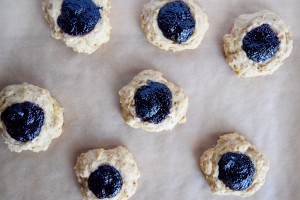 I just made a batch of my Easy Blueberry Jam. I've been spreading it on toast, but I really wanted to find a special way to use it. I ran a few ideas through my head but settled on one based on nostalgia.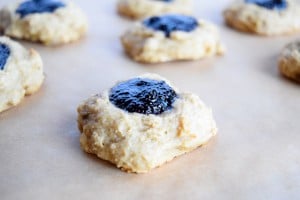 When we used to visit my grandmother in New York, we made a point to buy big boxes of cookies from a nearby bakery. We got an assortment of Italian cookies as well as a few favorites. Thumbprint cookies were always a necessity.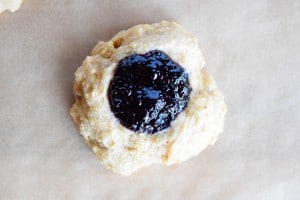 There is something so classic and simple about the thumbprint cookie. Similar to a jelly filled doughnut, it's a lovely way to combine pastry with fruit. But thumbprint cookies are usually packed with butter. I really wanted to keep this cookie as healthy as possible, so I used banana as both a fat replacement as well as a flavor pairing to the blueberry jam.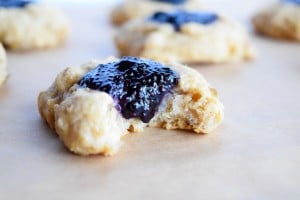 I like a lot of jam in my cookies, so I really packed quite a bit on top of each cookie. These cookies will be just as delicious with a smaller dollop of jam as well. Banana pairs really well with other fruits, so a different flavor jam would be totally fine, such as strawberry.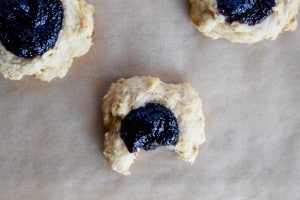 Banana Blueberry Thumbprint Cookies
Ingredients:
1 cup whole wheat pastry flour
1 tsp baking powder
1 tsp cinnamon
1/4 tsp salt
2 Tbsp coconut oil or vegan butter
1 ripe banana, mashed
1/4 cup maple syrup
1 tsp vanilla extract
1/4-1/2 cup Easy Blueberry Jam
Directions:
In a large bowl, mix the flour, baking powder, cinnamon, and salt. In a separate bowl, mix melted coconut oil/butter with the banana, maple syrup, and vanilla. Pour the wet in the dry and stir until combined. Chill in the fridge for about 45 minutes to an hour.
Preheat the oven to 375 degrees F. Grease a silicone mat over a cookie sheet, or use parchment paper. Roll the cookie dough into balls and press down into a thick disk shape. Using your thumb or finger, press the center of each cookie to make a small well.
Bake the cookies for about 5 minutes. Remove from oven and fill each well with jam. Bake for an additional 8 to 10 minutes, or until the cookies are firm and golden. Let cool completely before serving.