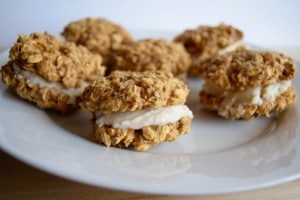 Another cookie recipe?!  I guess I've been on a bit of a cookie kick around here. I've had fun playing with different ideas, but it's really hard to make a variety of desserts without refined sugar.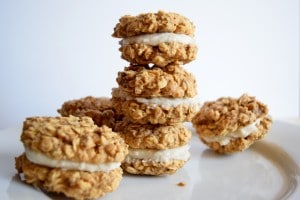 One of my husband's favorite cookies are those oatmeal creme pie cookies that you can find at any corner store. Packed with sugar and not very good for you, I really wanted to create a healthy and clean version. And this does not disappoint. These cookies are so sweet and delicious!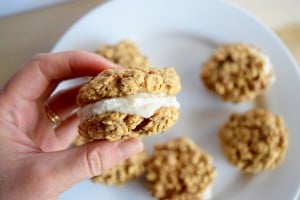 Oatmeal Cookie Sandwiches
Ingredients:
1 cup rolled oats
3/4 cup whole wheat pastry flour (oat flour for gluten free)
1 1/4 tsp baking powder
2 tsp cinnamon
1/4 tsp salt
1 chia egg (1 Tbsp chia seeds soaked in 4 Tbsp water)
1/2 cup maple syrup
2 Tbsp coconut oil
1 tsp vanilla extract
Coconut frosting* recipe below
Directions:
In a large bowl, mix together the oats, flour, baking powder, cinnamon, and salt. In a separate bowl, mix the chia egg, maple syrup, melted coconut oil, and vanilla. Pour the wet into the dry and chill for 20 minutes.
Preheat the oven to 325 degrees F. Line a cookie sheet with parchment paper or a silicone mat. Make 14 round balls out of the cookie dough and flatten into disks. Bake for about 12 minutes and let cool on a cooling rack.
When cookies are completely cool, add the frosting to the bottom of a cookie and form a sandwich with another. Enjoy!
Coconut Frosting
Ingredients:
1 can coconut cream, solid cream separated from the liquid
1/4 cup maple syrup
Directions:
Using a mixer, mix the solid coconut cream with the maple syrup until smooth and creamy. Spread between cookies, use as a frosting, or use it as a fruit dip!