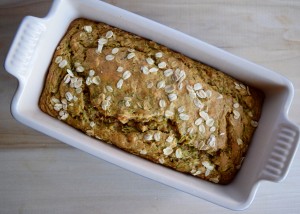 I try to keep healthy snacks on hand because both Dominik and I eat quite a lot during the day. Typical snacks from the grocery store are packed with sugar and questionable ingredients, so I steer clear of them. Even the breads and muffins are laced with preservatives and artificial ingredients. I try to make my meals healthy and whole, so why wouldn't I do the same for snacks?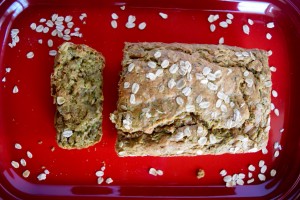 Breads and muffins are awesome to have stocked up in the fridge or freezer. They are filling and provide a boost of energy. Plus, I like to use them on mornings that I don't have time to make breakfast. One of my favorite breads is zucchini bread.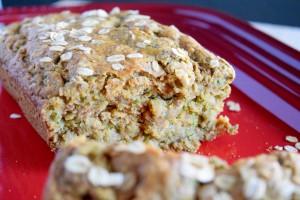 Zucchini bread has the moist softness of banana bread, except that it is loaded with healthy vegetables. This bread is sweet and if it weren't for the pretty accents of green throughout the bread, you wouldn't know it had vegetables at all.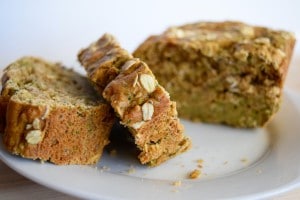 This recipe would also work well for muffins, but with a much shorter baking time.  This is so great for someone like me who isn't particularly fond of savory breakfasts but would love to include vegetables. So moist and delicious!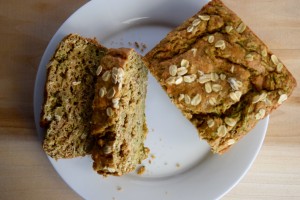 Zucchini Bread
Ingredients:
1 2/3 cup whole wheat pastry flour
1 tsp baking soda
1 tsp baking powder
1 tsp cinnamon
1/2 tsp salt
1 chia egg (1 Tbsp chia seeds plus 4 Tbsp water)
1/2 cup maple syrup
1/2 cup almond milk
4 Tbsp coconut oil
1 1/2 cups grated zucchini (about 2 zucchinis)
1/2 cup rolled oats
Directions:
Preheat the oven to 350 degrees F. Line a loaf pan with parchment paper or grease well.
In a large bowl, mix together the flour, baking soda, baking powder, cinnamon, and salt. In a separate bowl, mix the chia egg with the maple syrup, almond milk, and coconut oil.
Pour the wet mixture into the dry and mix well. After grating the zucchini, press some of the extra moisture out using a fine sieve. Fold the zucchini and the oats into the batter.
Pour the batter into the loaf pan and sprinkle some extra oats on top. Bake for about 50 minutes. More liquid in the zucchini means longer cooking time but more moist bread. When a toothpick comes out clean, remove from oven and let cool completely on a cooling rack. Enjoy!