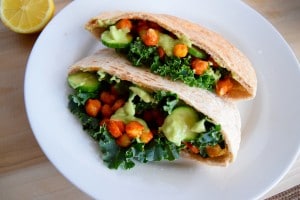 Wow, has this week been crazy. Dominik turns two on the 10th, so we had a small party with just family over the weekend. Of course, "just family" for us is still quite a lot of people, so there was plenty of planning, cooking, cleaning, and decorating for the event. The party was a success and everyone, including the birthday boy, had fun.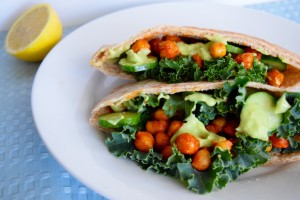 When I found the time to sit and blog, Dominik would immediately drop whatever toy he had to practice his rabid squirrel impression in my lap. This no-more-naps-ever business is seriously hard. I had no idea how much I relied on that hour of calm silence to not only get blogging and computer stuff done, but to maintain my own mental health. It also means that there's more time to fill during the day. More activities, more play time, more park time, more Target trips. So although I no longer have the quiet nap time, I feel like we have been spending more time together having fun and learning.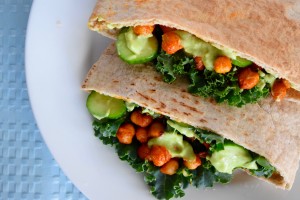 Because Dominik is no longer napping, dinnertime has reached a whole new level of stress. As a result, recipes need to be fast and easy. Enter buffalo chickpea pita pockets. And not only is this recipe super fast and super easy, it's probably one of my favorites ever. It's so simple and nutritious, but the flavor of the buffalo makes it feel like an indulgence.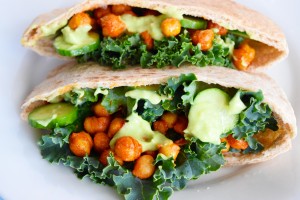 The pita pockets can be filled with whatever condiments and vegetables you like. Other options could be lettuce, onion, tomato, vegan mayo or ranch, avocado slices, olives, cilantro, etc. The pita pockets are also optional, but I like how they contain the chickpeas nicely. The possibilities are pretty endless. I also like to make extra buffalo chickpeas because they make a great snack by themselves. All the delicious, spicy flavor of buffalo wings with the added benefit of nutritious garbanzo beans!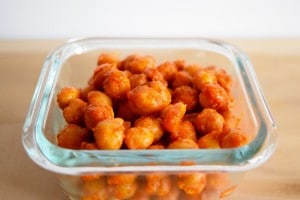 Buffalo Chickpea Pita Pockets
Ingredients:
1 15 ounce can chickpeas, drained and rinsed
4 Tbsp buffalo hot sauce
1 Tbsp coconut oil
1 ripe avocado
1/4 cup plain unsweetened almond milk
2 Tbsp lemon juice
4 pita rounds
kale leaves
1 large cucumber
Directions:
Preheat the oven to 375 degrees F. In an oven safe dish, combine the chickpeas with the coconut oil and buffalo sauce. Mix well. Bake for about 10-15 minutes, stirring a few times.
Using a blender or food processor, blend the avocado with the almond milk and lemon juice. Add a little salt to taste.
Stuff each pita pocket with the chickpeas, kale, and cucumber and drizzle with the avocado sauce. Enjoy!