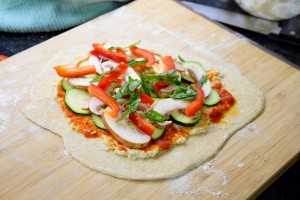 I am a pizza snob. Having growing up traveling to New York twice a year, I knew good pizza. All of the major pizza chains and even a few of the "gourmet stone fired pizza" places were all terribly mediocre compared to the giant New York pies. Living in southern California, my friends never understood why I turned my nose up to local pizza, unless of course they had experienced New York pizza themselves.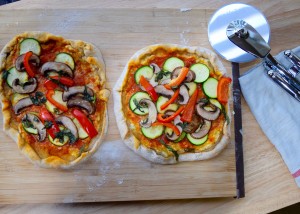 When I became vegan, finding good pizza became even harder because I ordered it without cheese. This meant that the sauce had to be top notch as it was now the truly the backbone of my pizzas. So I took matters into my own hands and made pizza myself.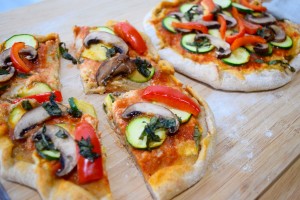 My mom makes fantastic homemade pizzas because she makes her own dough. With a toddler, I needed something faster, so I opted for store bought dough and instead focused on the sauce, the cheese, and the toppings.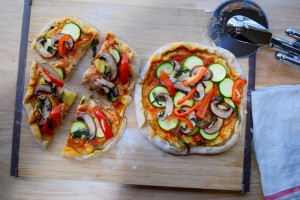 Garlic cashew cheese is perfect on pizza because it really matches well with tomato sauce. The reason that I put the cashew cheese on before the sauce is simply because it's pretty thick and sticky. It's just easier to spread it on the dough before adding the sauce. If I added the sauce first and then tried to spread the cheese, I ended up with a big orange mess. But I think it works out in our favor because having the sauce on top helps to cook the vegetables properly. And yes, that is a "Star Trek" Enterprise pizza cutter. 😉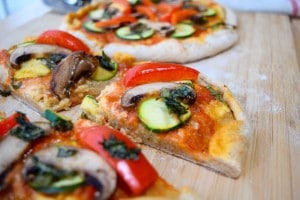 Cashew Cheese Pizza
Ingredients:
Store bought or homemade pizza dough of choice (I love Trader Joe's whole wheat)
2 cups prepared Tomato Sauce (or store bought if you want to cut down on time even more)
1 cup raw cashews, soaked for at least 2 hours
2 garlic cloves
1/4 cup olive oil
2 Tbsp lemon juice
1 tsp salt
1/2 tsp pepper
Pizza toppings of your choice (I used: zucchini, mushrooms, bell pepper, and basil)
Directions:
Prepare or preheat a pizza stone or baking pan according to manufacturers directions. Pizza stones need to be preheated along with the oven. Preheat oven to 475 degrees F. Roll out the pizza dough using plenty of flour.
In a blender, combine the cashews, garlic, olive oil, lemon juice, salt and pepper. Add water a few tablespoons at a time until smooth and creamy.
Spread the cashew cheese on the rolled out dough in an even layer. Spread the tomato sauce over the cheese. Add your toppings. I like to fold over the edges of the dough to make a more pronounced crust.
Bake for about 10 minutes, or until the crust is starting to turn golden brown and the sauce is bubbling.
Cut into slices and enjoy!