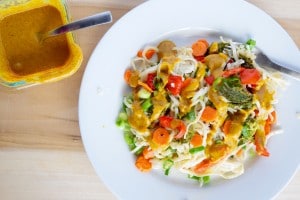 This has been a really busy week. We started potty training because Dominik has been showing signs of readiness but mostly due to the fact that he refuses to keep his diaper on. So we have been going slowly and gently to help make this a smooth process, trying out the diaper free method. Of course, there's nothing smooth or graceful about potty training. We are suddenly incredibly thankful that our house has no carpet.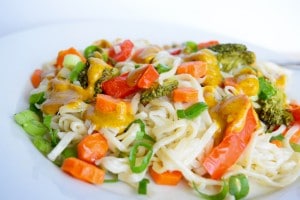 Because I have to keep one eye on the toddler at all times in order to prevent accidents, dinner needs to be super easy. Noodles and roasted vegetables are pretty easy and hands off, but can be kind of boring. And that's when a sauce takes a dish from blah to wow.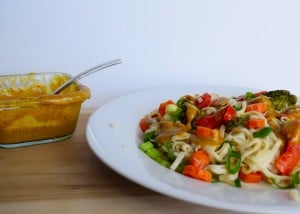 Peanut sauces are delicious and add protein and flavor to a dish. But I've been wanting to try an almond butter based sauce just for variety. Almond pairs really nicely with miso and combines to make an out-of-this-world-amazing sauce. Seriously, you will want to put this stuff on everything and save the extra to use as a dip. Miso delivers good bacteria while almonds give a boost of protein. With the spices, it's a really healthy sauce. This recipe would be great with soba noodles or rice to make it gluten free.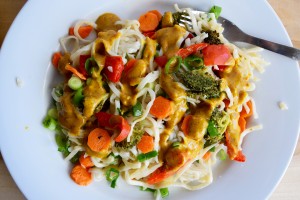 Veggie Udon Noodles with Almond Miso Sauce
Ingredients:
1 package udon noodles
2-3 carrots, diced
1 red bell pepper, diced
1 head broccoli, chopped into florets
1/4 cup scallions, finely diced
2 Tbsp coconut oil
salt and pepper to taste
Almond Miso Sauce *recipe below
Directions:
Preheat the oven to 400 degrees F. Put carrots, bell pepper, and broccoli in a casserole dish and coat well with the coconut oil. Season with salt and pepper. Bake for about 30 minutes, or until the vegetables are cooked.
While the vegetables are roasting, cook the udon noodles according to the package instructions and prepare the almond miso sauce.
Serve the udon noodles with the roasted vegetables, scallions, and sauce drizzled on top.
Almond Miso Sauce
Ingredients:
1/2 cup almond butter
1 Tbsp miso paste
2 cloves garlic, minced
1 tsp minced ginger
1 Tbsp maple syrup
1 tsp curry powder
1/2 tsp sriracha (optional)
1 tsp apple cider vinegar
1/2 cup water
Directions:
Mix all ingredients except for the water in a bowl. Slowly add water until the sauce thins out to the desired consistency. There may be more or less water needed. Enjoy on vegetables, noodles, rice, or use as a dip!