Like all home improvement projects, we started out with a small and simple idea: painting the kitchen cabinets. Our kitchen is quite small and is always so dark due to the lack of windows and with beige cabinets and black countertops, it only looked smaller and darker. I was hoping that by painting the cabinets white, the kitchen would appear bigger, brighter, and just overall cleaner. Of course, this initiated the conversation about other aspects of the design. I had always disliked the sink. It was a dark brown matte granite that looked dirty no matter how hard it was scrubbed and it was not installed properly to begin with. Of course, changing the sink meant new countertops and new backsplash as well, so…. we are without a kitchen for a week or two.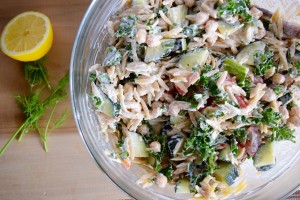 This week has been hot and dry, so I don't feel much like cooking anyway. Craving a cold dish but needing it to be filling, I tackled the pasta salad. I really wanted to bring in the textures and flavors of the Greek tzatziki sauce because the combination of cucumber, lemon, garlic, dill, and yogurt are all super refreshing yet satiating. Luckily, vegan yogurts have come a long way. They sell a variety of plain, unsweetened vegan yogurts, but I recommend the soy because it is the closest to the traditional dairy flavor in this sauce. Other yogurts could work, but the flavors would change. Also, tzatziki typically has cucumbers in the sauce, but I like the crunchy texture that the larger chunks give to the pasta salad, adding to the balance. But feel free to add cucumber to the sauce as well.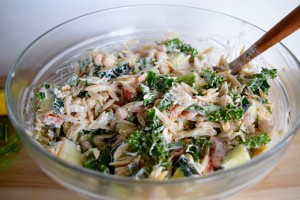 This pasta salad was just perfect. It was delicious, quick, and super easy to make. I can see myself making this over and over again this spring and summer.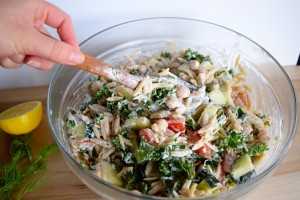 Mediterranean Pasta Salad
Ingredients:
Orzo pasta, cooked and set aside
1 can garbanzo beans
1 medium cucumber, diced
1 ripe tomato, diced
1 cup kale, chopped
Vegan Tzatziki Sauce *recipe below
Directions:
Prepare the pasta and set aside to chill. In a large bowl, mix the garbanzo beans, cucumber, tomato, and kale.
Prepare the tzatziki sauce. Mix the pasta, sauce, and veggies together and chill until the pasta salad is cold.
Enjoy!
Vegan Tzatziki Sauce
Ingredients:
1 cup plain, unsweetened soy yogurt
2 cloves garlic, minced
Juice of half a lemon
1-2 Tbsp dill, minced
1 Tbsp olive oil
salt and pepper
1 cucumber, peeled and grated (optional if cucumber is already in the pasta salad)
Directions:
Combine all ingredients in a bowl and use as a sauce or for dipping!