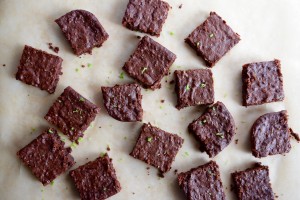 We are still in the midst of "Project Kitchen Remodel", so all recipes need to be simple. We have a working oven and stove, but there are no countertops. I'm excited about a new kitchen, but definitely ready for everything to be over. The contents of our entire kitchen are still piled up in one of the bedrooms, making anything complicated just too bothersome.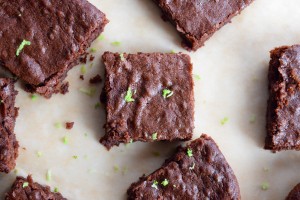 We spent the week that they were doing the heavy duty work staying with our parents. We ate out frequently and just missed having the option to prepare quick and healthy things in our own kitchen.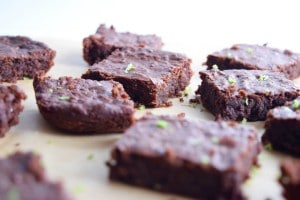 When we finally returned home, I just needed to cook something. Anything. And brownies? Always a good idea.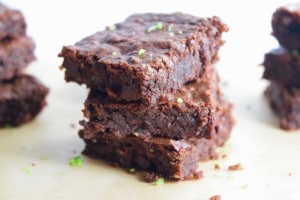 Baking recipes have been pretty easy, because most of it is just mix, pour, bake. Of course, the recipe needed to be chocolate, but I really wanted some pizazz. Although it may not sound like it, chocolate and lime are one of those unusual flavor pairings that just work so well. There's something about the richness and depth of the chocolate that blends perfectly with the bright zing of the lime. My husband was skeptical about them at first, not expecting the lime, but quickly decided they were delicious and highly addictive.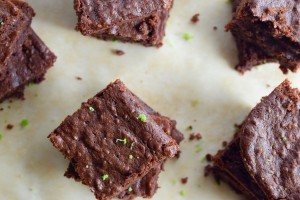 These brownies are just perfection. They satisfy the chocolate lover and provide enough interest to intrigue the snobbiest of dessert lovers. Also perfect for warmer weather, since the lime is so refreshing.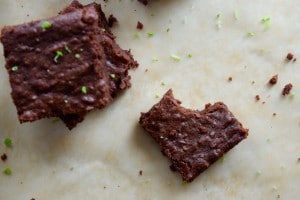 Chocolate Lime Brownies
Ingredients:
2 chia eggs (2 Tbsp chia seeds plus 8 Tbsp water)
1/2 cup coconut oil
1/2 cup maple syrup
3/4 tsp sea salt
3/4 tsp baking powder
1/2 cup cocoa powder
3/4 cup whole wheat pastry flour (or any unbleached all purpose flour)
zest of 1 lime
juice of 1 lime
optional: 1/4 cup of shaved chocolate or chocolate chips
Directions:
Preheat oven to 350 degrees F. Prepare the chia egg and set aside to thicken.
In a mixing bowl, combine the coconut oil with the chia seeds and maple syrup. Mix in the sea salt, baking powder, and cocoa powder. Add the flour and stir to combine.
Fold in the lime zest and juice as well as extra chocolate if you choose to do so. Pour into a greased baking pan and bake for about 25 minutes, or until cooked through.