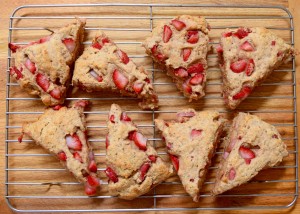 Well, we still do not have countertops or backsplash and will not for another week. We are using this time to do our best to air out the cabinets. Since painting them, the usually hot and dry weather here in Southern California has been cool and moist. This meant that the cabinets took much longer to fully dry and they have reeked like fresh paint since. I am super sensitive to chemical smells, so it's been particularly frustrating trying to rid the house of fumes. But the cabinets look incredible and I can't wait for the big reveal.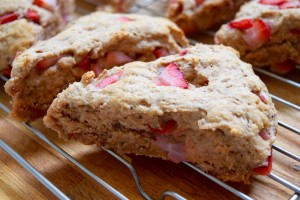 Hopefully the kitchen will be done soon. At least it's strawberry season!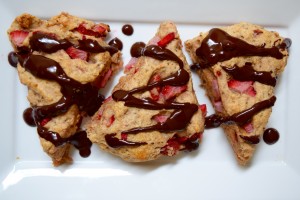 I look forward to strawberry season every year because although it is fairly short, for a little while there are perfectly ripe and sweet strawberries stacked high on the grocery store shelves. We usually enjoy them straight out of the package, but it's such a wonderful flavor to use in baking.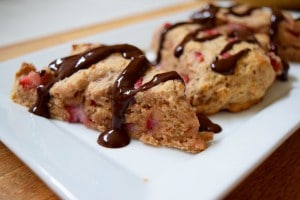 And what better ingredient to pair strawberries with than chocolate?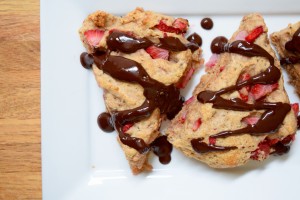 Now, I know this Sunday, many moms are going to be getting breakfast in bed for Mother's Day. I thought a scone inspired by chocolate covered strawberries would be a perfect item to serve for a Mother's Day breakfast. Or for moms to bake and hide so that they can have them all to themselves?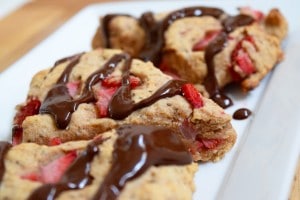 Strawberries can be a bit tricky to bake with because they release lots of moisture into the batter. It can help to dry off the strawberries a little, but if the batter is the right consistency, it won't make a huge difference. These scones are the perfect consistency with just the right amount of moisture. They are soft and rich with a burst of sweetness from the chunks of strawberry. Finished off with drizzled chocolate, these healthy scones feel deliciously indulgent.
Chocolate Covered Strawberry Scones
Ingredients:
2 cups spelt flour (whole wheat pastry flour works well too)
2 tsp baking powder
1/4 tsp salt
6 Tbsp vegan butter
1 chia egg (1 Tbsp chia seeds mixed with 4 Tbsp water)
2 Tbsp maple syrup
2/3 cup nondairy milk
1 1/2 cups chopped strawberries
1 cup dairy free chocolate chips
1/4 cup nondairy milk (for the chocolate drizzle)
Directions:
Preheat the oven to 400 degrees F.
Prepare the chia egg and set aside to thicken. Chop the strawberries and set aside.
In a large bowl, mix the flour, baking powder, and salt. Using a pastry cutter or a butter knife, cut the butter into the flour until it resembles bread crumbs. Make sure the butter is very cold. Using a blender or food processor will work too.
In a separate bowl, whisk together the chia egg, maple syrup, and 2/3 cup milk. Pour into the flour mixture and gently combine.
When the batter is fully mixed, gently fold in the strawberries. Place batter in one big ball in the middle of a well greased or silicone mat covered baking sheet. Flatten until it is a large disk, about an inch thick. Using a butter knife, cut the batter into eights (do not separate the pieces, leave the batter where it is).
Bake for about 20 minutes, or until the top is golden brown. Separate the triangles and let cool completely.
Prepare the chocolate drizzle. Using a double boiler or the microwave in 10 second spurts, melt the chocolate chips. Whisk in the milk just a few tablespoons at a time until it is the thickness that is desired.
Drizzle the chocolate over the scones and enjoy!