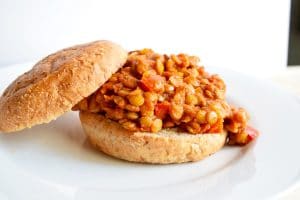 While we wait for the kitchen to be finished, we are using the time to make all the final decisions for our master bathroom. Yes, we are crazy enough to continue on this home renovation roller coaster. Our master bathroom was the oldest part of the house and is the most in need to an update. The old, white square tiles that frame the shower and cover the countertop are seriously dated. The cabinets are falling apart and don't shut properly. Oh yeah, and the bathtub leaks into our living room.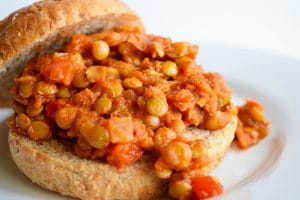 In the meantime, we are enjoying this incredibly easy and insanely delicious vegan sloppy joy recipe. My husband is very picky about recipes that attempt to replace one that traditionally is meat based. But these vegan sloppy joes? These messy burgers were devoured.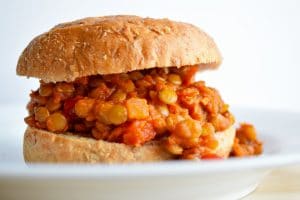 Lentil Sloppy Joes
Ingredients:
1/2 onion, finely diced
1 red bell pepper, finely diced
3 cloves garlic, minced
2 Tbsp olive oil
1 1/2 tsp chili powder
1/2 tsp cumin
1/2 tsp garlic powder
1/2 tsp paprika
1 tsp Italian seasoning
1 cup green lentils, rinsed
2-3 cups vegetable broth
24 oz can/jar tomato sauce
2 Tbsp apple cider vinegar
Hamburger buns, pita bread, or lettuce leaves (gluten and grain free option) for serving
Directions:
In a large pot, heat the olive oil over medium heat and add the onions and bell pepper. Cook for several minutes and add the garlic. Continue to cook until fragrant and the onions are translucent.
Stir in the spices and cook for about 2 to 3 minutes. Stir in the lentils, 2 cups of the broth, tomato sauce, and apple cider vinegar.
Bring to a boil and turn down the heat to simmer. Simmer for 30 minutes, or until the lentils are soft. Stir occasionally, if the lentils are still firm and the liquid has absorbed, add the extra cup of broth.
Serve immediately on hamburger buns or lettuce leaves. Enjoy!