Trying to get this recipe up has been quite the ordeal. The kitchen is, for the most part, done. So little by little, I am getting everything back into it's proper place. The master bathroom is still under construction, so we are holed up in the guest bedroom/playroom. And with family visiting this weekend, I am definitely feeling the pressure to get the house under control and clean.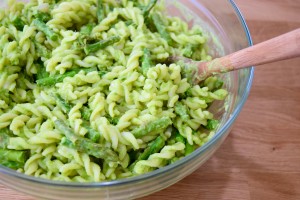 I'm glad that I have so many lovely spring vegetables to keep me from crashing. This pasta dish is absolutely perfect for spring. It's creamy, satisfying, and super delicious all while being light and healthy. And best of all is that it's really quick and easy to make. Adding cannellini beans to a simple pesto is pretty much magic. It adds a big boost of protein and makes the sauce creamy and smooth and just perfection.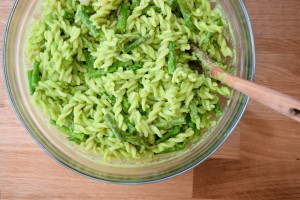 Spring Green Pasta
Ingredients:
1 pound pasta (use brown rice or quinoa pasta for gluten free)
2 tbsp olive oil
1 bunch asparagus, trimmed and cut into 2 inch pieces
1 medium shallot, minced
salt and pepper, to taste
1 15 ounce can cannellini beans, drained and rinsed
1 cup basil leaves
1 clove garlic, minced
1/4 cup olive oil
1 lemon, juiced and zested
Directions
Cook the pasta according to package directions. Preheat the oven to 375 degrees F.
Add the asparagus, shallots, 2 tablespoons olive oil, and salt and pepper to a small baking dish. Mix well and bake for about 20 minutes, or until the asparagus is tender but not mushy.
To a blender, add the cannellini beans, basil leaves, garlic, 1/4 cup olive oil, and the lemon juice and some salt and pepper. Blend until creamy, adding water if the sauce needs to be thinned.
In a large bowl, mix the pasta, asparagus, and creamy pesto sauce. Add in the lemon zest and enjoy!