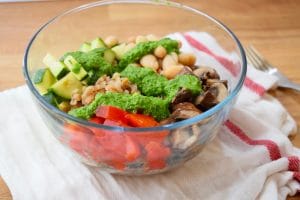 The kitchen is pretty much done. There are just a few things we are waiting for: a cabinet door to be repainted and two drawers to be finished. I was debating whether or not to do the big reveal, but I think I will wait for the missing drawers and door. Our kitchen is small enough that a few missing objects makes it look pretty incomplete. In the meantime, now that I have full use of my kitchen again, I have been cooking up a storm. I have weeks of recipe ideas that I have been wanting to try out so we have definitely been eating well lately.
Our master bathroom, however, is still under construction which has pretty much left that room off limits. Our bathroom is pretty small to begin with, but it also has no door. This means that tools and dust have spilled out into our bedroom so we have been sleeping in the guest room. All of us in a full bed. The toddler takes up 50%, our two dogs take up about 25%, and my husband and I share the remaining 25%. It goes without saying that we have not been sleeping well.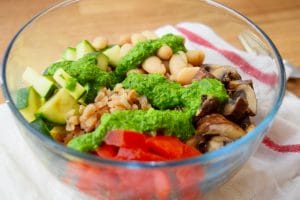 Now on to the first of the recipes created in the new kitchen. I love a good vegan bowl. I appreciate the simplicity of a single, complete dish. Plus, it's a great way to experiment with different flavor combinations and ingredients. We try to eat a variety of whole grains, farro being one of them. So I thought I would try to use this ancient Roman grain in a vegan bowl. I continued the Italian theme with the addition of roasted bell peppers, zucchini, crimini mushrooms, and cannellini beans. And what better sauce to complete the dish than a bright pesto?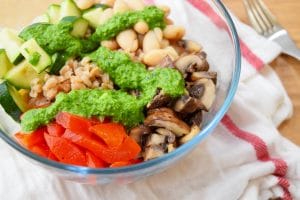 Italian Farro Bowl
Ingredients:
1 cup uncooked farro
2 cups water or vegetable broth
2 Tbsp olive oil
2 medium zucchinis, diced
1 cup crimini mushrooms, diced
1 cup jarred roasted bell peppers, rinsed and diced
1 15 ounce can cannellini beans, drained and rinsed
1/2 tsp salt
1/2 tsp pepper
1 cup packed basil leaves
1/4 cup olive oil
juice of 1 lemon
3 cloves garlic
salt and pepper to taste
Directions:
Rinse the farro and put into a saucepan with 2 cups water or broth. Bring to a boil. Turn down to simmer and cook until the farro is cracked open and soft.
Preheat the oven to 400 degrees F. In a baking dish, add the zucchini to one side and the mushrooms to the other. Coat with 2 Tbsp olive oil and add salt and pepper to taste. Bake for about 20 minutes, until vegetables are soft and cooked through.
To prepare the pesto, in a blender, add the basil leaves, a half teaspoon each of salt and pepper, 1/4 cup olive oil, lemon juice, and garlic cloves. Blend until smooth and fully incorporated.
Prepare the bowl. Add the farro to a bowl and top with the zucchini, mushrooms, bell pepper, and beans. Drizzle pesto on top and enjoy!