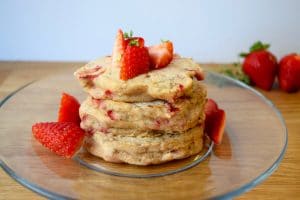 About a week and a half ago, we took Dominik to a local strawberry festival. My mother in law was visiting so it was perfect timing for a big family outing. When I heard about a "strawberry festival", I immediately thought about all the awesome strawberry themed foods they would have. It ended up being a very crowded street fair with little reference to strawberries at all. It was fun to do as a family but boy did I crave strawberries!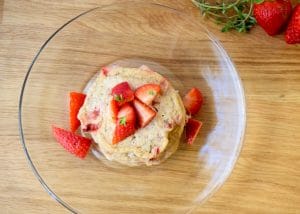 We have been going through so many strawberries this spring. Dominik eats the entire container before I can do anything with them, so this week I bought extra. In season strawberries really are magical. The longer they have ripened in the sun, the sweeter and more amazing they are, similar to tomatoes. I do enjoy a good strawberry dessert, but my favorite meal for these red fruits will always be breakfast.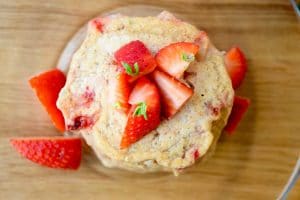 I love how versatile breakfast can be. Sweet or savory, fruits or vegetables, high protein or high carbohydrate, hot or cold. The possibilities are endless. I also appreciate the fact that many typical breakfast foods like pancakes, waffles, oatmeal, granola, and smoothies are all such blank slates. You can pretty much create an flavor combination you want.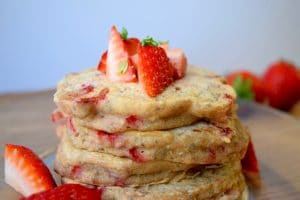 On a warm spring day, strawberries are perfection. Flavors like lemon go really well with strawberries, but I was wanting to find another way to brighten and compliment the flavor of strawberries. Thyme and strawberries really are an incredible match. The thyme adds a bright freshness to the pancakes but because it is a green herb, adds a subtle element of earthiness to the dish. And what makes it so irresistible? The maple syrup. Each bite tastes so fresh and sweet and just like spring should taste.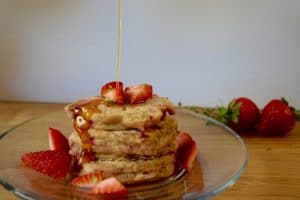 Strawberry Thyme Pancakes:
Ingredients:
1 cup whole wheat or spelt flour (gluten free oat flour works well for a gluten free option)
1 tsp baking powder
1/4 tsp salt
1 cup milk
1 chia egg (1 Tbsp chia seeds added to 4 Tbsp water)
1/2 tsp vanilla
1 cup fresh strawberries, finely chopped
1-2 tsp fresh thyme, coarsely chopped
4 Tbsp coconut oil, vegan butter, or other flavor neutral oil for cooking
Directions:
In a large bowl, add the flour, baking powder, and salt and mix together. Prepare the chia egg and set aside to thicken.
In a separate bowl, whisk together the milk, vanilla, and chia egg. Pour into the flour mixture and mix only until just incorporated. Do not over-mix.
Gently fold in the strawberries and thyme.
Heat the oil in a pan over medium heat. When the pan is hot, add the pancake batter. Cook several minutes on each side so the pancakes are golden brown and cooked through. Repeat until batter is used up.
Serve hot with maple syrup.