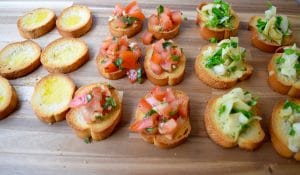 We took Dominik to a restaurant last week and was met with the same dilemma that we are always faced with: what are we going to order for the toddler to eat?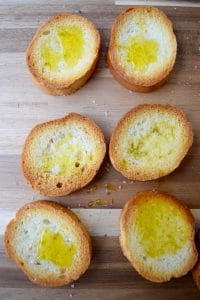 Our toddler eats what we eat, which I know we are very lucky for, but that also means that he does not eat meat or dairy or eggs. The "kid's menu" at nearly every restaurant is the same. Chicken fingers, french fries, hamburgers, mac and cheese, spaghetti and meatballs, pizza, chicken teriyaki, etc. Even if we were to order something with meat or dairy, it is very difficult to find anything healthy or touched by vegetables on a kid's menu.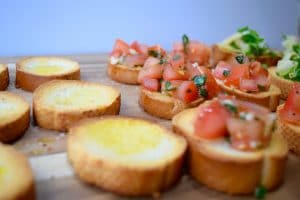 I totally understand that a large reason for this is that most young children are picky eaters and the foods that I listed above are typically favored by kids. But, it would be nice if some vegetarian and healthier options were offered.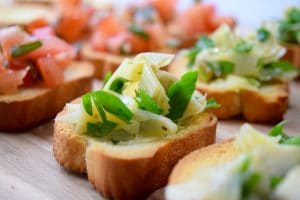 At this particular restaurant, we did what we normally do. First, check the kid's menu for anything healthy or vegetarian. Then, check out the side dishes. Often, we are able to put together a variety of sides of vegetables, starches, and sometimes some plant based protein for him. We try to avoid ordering an adult portion of something off the menu simply because it is too much food for him. So, sometimes, he and I end up sharing a plate of something.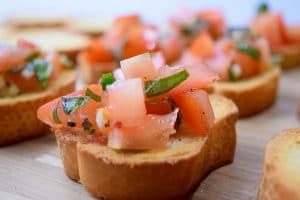 Dominik does love to eat. I mean, he loves food. He gets especially excited when I'm testing out recipes in the kitchen because he has become my honorary taste tester. It's also important for him to be in the kitchen because I believe in the importance of teaching him how to cook as well as his own family's culinary history.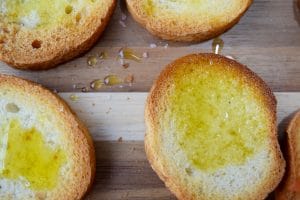 Bruschetta has long been a favorite appetizer or snack on the Italian side of my family. It's incredibly easy, a great way to use up stale bread, and super delicious. When most people think of bruschetta, they think of slices of bread topped with a delightful mixture of tomatoes, garlic, and basil. But traditionally, as in ancient Rome, bruschetta was just bread rubbed with garlic, soaked in olive oil, and sprinkled with a little salt. The reason for this was because it was the way to celebrate and sample freshly made olive oil.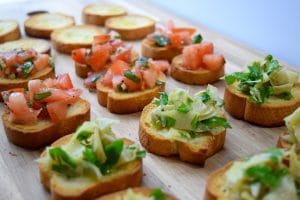 Bruschetta has since evolved, with olive oil as the necessary ingredient, and the flavor combinations are endless. Toppings can include vegetables, herbs, beans, vegan cheeses… My personal favorite include traditional bruschetta, tomato basil bruschetta, and artichoke parsley bruschetta.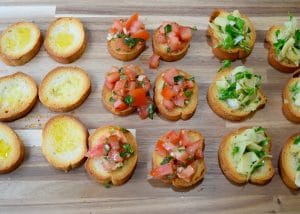 Bruschetta
Ingredients:
1 loaf of bread, sliced into rounds
5-6 cloves garlic, peeled
1/4-1/2 cup good olive oil
1 tsp salt
Optional: toppings
Directions:
Preheat the oven to 400 degrees F. Place the bread slices on a baking sheet and bake until golden brown and toasted.
Rub a garlic clove on each of the toasted slices, using a new clove after each previous one is used up.
Drizzle the olive oil over the bread slices until each slice has a fair amount. Sprinkle with salt. Enjoy as is or complete with toppings.
Tomato Basil Bruschetta
Ingredients:
Fresh made Bruschetta
3-4 roma tomatoes, diced finely
1/4 cup basil, finely chopped
2 cloves garlic, minced
Freshly ground pepper
Directions:
Prepare traditional bruschetta.
Mix the tomatoes, basil, and garlic in a bowl. Top each slice of bruschetta with a spoonful of the mixture. Sprinkle pepper on top and enjoy!
Artichoke Parsley Bruschetta
Ingredients:
Fresh made Bruschetta
1 jar artichoke hearts, drained and coarsely chopped
1/4 cup fresh Italian parsley, finely chopped
1 lemon, halved
Directions:
Prepare the traditional bruschetta.
In a bowl, mix the artichoke hearts and parsley. Top each slice of bruschetta with a spoonful of the mixture. Squeeze a few drops of lemon juice on top of each slice and enjoy!