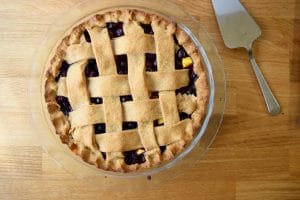 The bathroom saga continues. It's taking quite a bit longer than we were told, so I am comforting myself by making treats and devouring entire batches by myself. I am hoping that we can conclude our bathroom renovation soon so that we can finish the last few touches on the kitchen.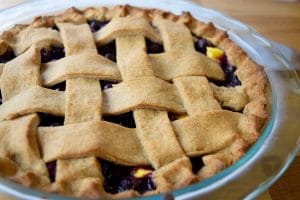 I love pie. Especially fruit pie. I'm not particularly fond of overly sweet pies like pecan or meringue, but give me a buttery crust stuffed with fruit any day. I decided to take full advantage of the fact that fruit at my local store is ripe and well priced and loaded up on blueberries and mango. These two fruits are typically paired together, but let me tell you, it is a match made in heaven.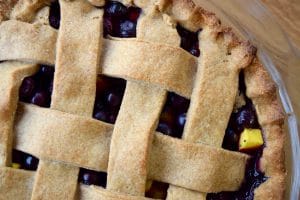 Making pie from scratch is a bit of a challenge with a two year old. My pie is pretty messy rustic looking. I would have liked to roll the dough out to be a bit thinner, but I kept having little hands reach up to steal handfuls of dough. So when it became time to put the pie together, I did so as quickly as possible as a toddler was slowly melting down beside me.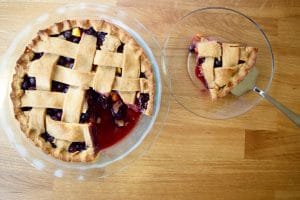 This pie is just so completely delicious. As you can see from the pictures, I didn't let the pie cool off too much before cutting myself a slice. The filling was still warm and runny, but it really didn't matter. This pie is out of this world amazing. The blueberries pair perfectly with the mango, giving pleasant bursts of sweetness with each bite. And the crust is flaky and rich and buttery. I may have eaten nearly the entire pie by myself. At least I left a slice for the hubby.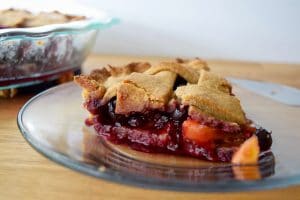 Blueberry Mango Pie
Ingredients:
For the pastry dough:
2 1/2 cups flour
1 tsp salt
1 cup vegan butter or coconut oil
1/2 cup ice water
For the filling:
2 cups fresh blueberries
2 cups chopped mango
juice half lemon
3 tsp chia seeds
1/4 cup maple syrup
Directions:
Prepare the pastry dough: Using a food processor or a pastry cutter, cut the butter/oil into the flour and salt until it resembles bread crumbs. The butter/oil needs to be very cold and kept cool for optimal results. Stir in a few tablespoons of cold water until a firm but pliable dough forms. Chill in the fridge for at least an hour.
Preheat the oven to 425 degrees F. In a medium bowl, mix together all of the filling ingredients.
Grease a pie pan. Separate the dough into two balls. Roll them both out until about 1/4 inch thick. Lay one of the rolled doughs into the pie pan, pressing gently to fill in gaps and mend tears. Cut off excess.
Using the other rolled dough, cut into strips and weave the pieces together to form the top. Alternatively, the dough can simply be laid over the top, with a few slits cut on top. Connect the top dough to the bottom by pressing together.
Bake for about 50 minutes, until the crust is golden and the filling bubbling.
Let cool completely and then chill for at least an hour or two. Enjoy!