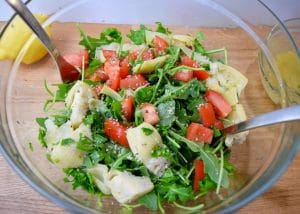 The west coast has been brutally hot lately. The kind of heat that sucks all of your energy before you even get out of bed. The news is constantly filled with "heat advisory" warnings and the beach is packed with people trying to cool off. There's little I want to do besides sit in front of the fan with a bowl of ice cream and a tall glass of water.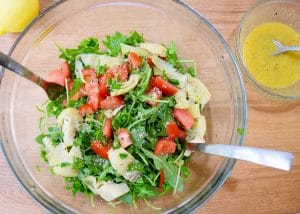 We took Dominik to the pool yesterday but were surprised to find that he was afraid to leave the steps of the pool. He's always loved water so I expected him to want to jump right in again (into our arms, of course). But he instead sat with his little feet in the water, carefully considering the big pool of water in front of him. It doesn't seem like the hot weather is going away anytime soon, so I hope that he warms up to the water quickly.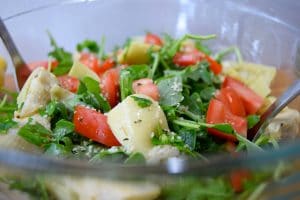 During heat like this in the summer, a fresh salad is the perfect side. It's light, cold, and fresh but more importantly, it won't heat up the kitchen. And although I love a big salad as a meal, sometimes I want an easy side salad to go with a main course. The type of salad that takes minutes to put together and few ingredients but feels like a complete and satisfying side dish.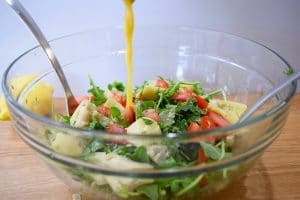 Most side salads are created using whatever is in the fridge and pantry and are far from fancy. This is one of my favorite combinations of ingredients because everything compliments each other so well. The bitter and spicy arugula, the sweet tomato, the rich and savory artichoke hearts, the crunch of the hemp seeds, and the tang of the dressing.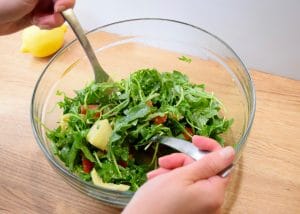 Easy Arugula Salad
Ingredients:
4-5 cups fresh arugula
2 ripe tomatoes, diced
1/2 cup artichoke hearts, diced
1-2 Tbsp hemp seeds
Lemon Dijon Vinaigrette *recipe below
Directions:
Mix all ingredients in a large bowl. Pour over the dressing and enjoy!
Lemon Dijon Dressing
Ingredients:
1/4 cup olive oil
Juice of half a lemon
2 Tbsp dijon mustard
2 Tbsp maple syrup
salt and pepper, to taste
1 tsp Italian seasoning
Directions:
Whisk all ingredients in a small bowl. Pour over salad and enjoy!