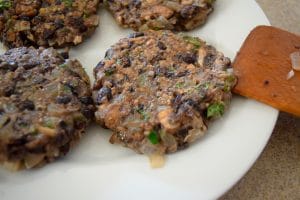 Fourth of July weekend is upon us. A time for barbecues, cookouts, potlucks, county fairs, and fireworks. I'll admit that I'm a bit of a summertime grinch. I avoid the crowded county fair like the plague, I don't like the flavor of barbecue, and I cannot stand the heat. My family affectionately calls me a vampire. During the summer, you will find me in the darkest shade with my nose in a book dreaming about fog and rain and sweater weather.
As a kid, the 4th was spent with family in New York. We would all trek out to my uncle's house which was situated yards away from the ocean water. We would spend the day cooking (as Italian-American families do) and then spend the evenings eating around giant bonfires. Perhaps these summers set the standard so high that others have fallen short. Hopefully, we will be able to create some fun summer experiences for Dominik as he grows.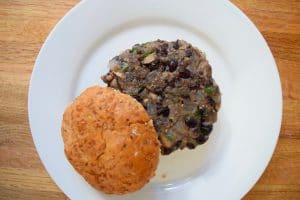 But summer has some really great perks that make it all okay. Summer fruit? Nothing better than a juicy peach, a cold watermelon, or bowl full of berries. Tomatoes? Ripe and perfect enough to eat themselves by the bunch. Vegan burgers? Divine and filling and super easy to get creative and personalize each one. I make bean burgers all the time with whatever I have in the fridge and pantry, so no two are ever the same. Except for this one. This is my burger masterpiece.
Black beans, I think, provide a perfect base for a plant based burger. Their flavor is very neutral and their texture is a perfect balance between firm and soft. The mushrooms give the burger a hearty and meaty feel that we all want out of a patty. Chopped parsley brightens up the flavor and brings a welcome freshness to each bite. But the secret ingredient that takes these burgers to the next level is balsamic vinegar. The acidity and the richness of the flavor gives the mushrooms an even bolder taste and it completes the flavor profile of the burger patty. This is definitely a favorite around here.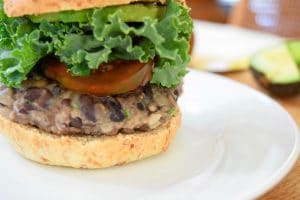 Black Bean Mushroom Burgers
Ingredients:
2 Tbsp olive oil
1 can black beans, drained and rinsed
1 1/2 cups finely chopped mushrooms
half an onion, finely chopped
3 garlic cloves, minced
2 chia eggs (2 Tbsp chia seeds mixed with 8 Tbsp water)
2 Tbsp balsamic vinegar
1/4 cup chopped parsley
1/4-1/2 cup flour
1/4 cup bread crumbs
salt and pepper, to taste
4 Tbsp olive oil
Burger fixings (buns, lettuce, tomato, avocado, ketchup, mustard, etc.)
Directions:
Heat 2 tablespoons of olive oil in a pan over medium heat. Add the onion and cook until translucent, about 4 or 5 minutes. Add the garlic and mushrooms and continue to cook until the mushrooms have softened.
Transfer the mushroom mixture to a large bowl. Add the beans and roughly mash until most of the beans have been mashed. Add the chia eggs, balsamic vinegar, parsley, and salt and pepper. Mix well.
Add the bread crumbs. Pour the flour in a few tablespoons at a time until the mixture is dense enough to form into patties.
Shape the mixture into patties and cook in the pan with the remaining olive oil. Cook several minutes on each side, until the patties are crisp and golden. Serve on a bun with the toppings of your choice.