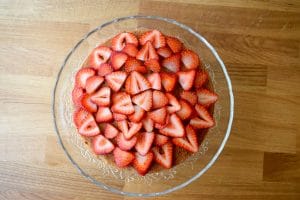 So project kitchen and bathroom remodel are at a standstill. There's nothing being done this week and when it's being worked on, there is complication after complication. So, we are still in the guest room/playroom with about 5 outfits each that we are cycling through. We spend most days at my mom's to avoid the dusty and smelly work here. The crazy schedule has turned Dom into quite a wild child lately. But Dominik has had a blast doing summery things with Grandma.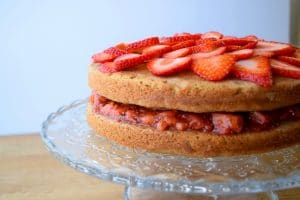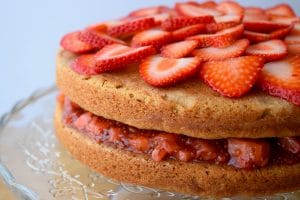 So for the 4th of July, we did nothing. My dad came over for a nice quiet visit, but other than that, it was a typical day around here. I made an easy dinner and we were all in bed early, no fireworks. And it was amazing. No super late night drives in traffic, no sunburns, no fighting for parking. And the best part of finally being home? I made cake.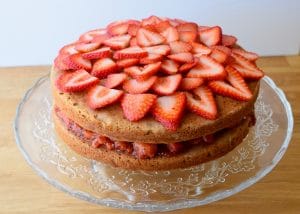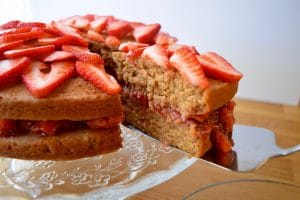 I've been wanting to make a cake for a while. I got this great cake stand from Ikea that's been pretty much unused. I usually just make cupcakes, but there is something so beautiful and dramatic about a cake. This isn't your typical cake, though. I really wanted to make a healthier cake that I felt comfortable letting Dom try. The whole wheat flour gives the cake a darker color, but don't be mistaken, this cake is light and bright and fresh.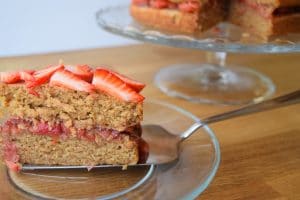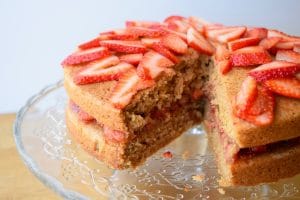 I personally don't like frosting, I think it can take away from the flavor and texture of the cake. So I made a homemade jam filling and just topped it with fresh fruit. The result was delicious. The jam filling gave it an extra pop of sweetness, while the fruit topping made the cake feel and taste so fresh. And the flavor? Yum! A bright and summery lemon cake is a perfect match for fresh and super sweet strawberries.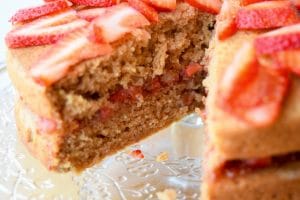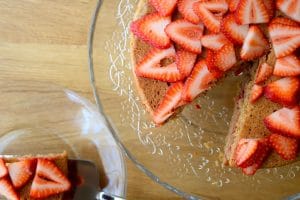 Healthy Strawberry Lemonade Cake
Ingredients:
3 cups whole wheat pastry flour
1 tsp baking powder
1 tsp baking soda
1/2 tsp salt
3/4 cup coconut oil
1 cup applesauce
3/4 cup maple syrup
1 cup milk
Juice from 2 lemons
zest from 2 lemons
Strawberry jam* recipe below
Strawberries, for topping.
Directions:
Preheat the oven to 350 degrees F. Grease two cake pans with coconut oil.
In a large bowl, mix together the flour, baking powder, baking soda, and salt. Add the lemon juice to the milk in a small bowl and set aside to curdle.
In a medium bowl, mix the warmed coconut oil, applesauce, and maple syrup. The warmer everything is, the better it will mix. Add the milk/lemon juice.
Pour the wet mixture into the dry and mix well. Fold in the lemon zest.
Divide the batter between the two cake pans and cook for about 40 to 45 minutes, until a toothpick comes out clean.
Let cool completely on a cooling rack. Spread the jam on the top of one of the cake rounds. Top with the other one and add sliced strawberries to the top of the cake. Slice and eat!
Strawberry Chia Jam
Ingredients:
1 cup finely chopped strawberries
1/4 cup maple syrup
3-4 Tbsp chia seeds
Directions:
Add all ingredients to a small saucepan and heat over medium heat. Once the mixture starts simmering, turn the heat down to medium low. Add a little water if the mixture is dry.
Cook, stirring frequently, until the mixture has thickened and the strawberries have released their juices. Let cool completely before using.