My sister in law and her boyfriend have been into beer for quite a while. They've introduced us to new beer, taken us to breweries, and have even made their own. One day, my sister in law mentioned that they were making soap out of the leftover hops from the beer making process. I was blown away. What a cool idea to prevent waste and make some natural and fun products!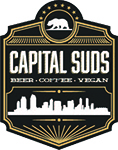 I wasn't sure what to expect, I'd never tried soap or scrubs made from hops or beer, but I may be hooked now. These aren't your typical homemade soaps, either. If you're anything like me and try your hand at "crafting" every now and then, you've probably tried to make soap. My homemade soaps were nothing to ever brag about, nor did they ever leave my skin feeling super soft. Capital Suds have developed something special. What may have started out as homemade soaps has transformed into professional, top quality bath products.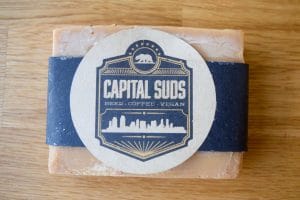 Capital Suds products are all natural and, which is important to me, all vegan. They have a wide range of scents and combinations. Their coffee scrubs are particularly popular. There are also a ton of new products coming out all the time. There have been hints about shampoo, candles, and even beard oil. I'm particularly excited about trying out the upcoming bath bombs.
I started out with something simple, something that I know is a constant crowd pleaser: The Oatmeal Stout soap. I've pretty much stuck to a few brands over the years when it comes to soap, so it felt like a luxury trying out such fancy new suds.
The bar of soap lathers well and goes on smoothly. In the week's time that I've used it, it has not been used up very much, I can see this bar lasting a while. The smell is stronger than I'm used to (I normally use unscented soap), but it's very pleasant and not at all overpowering. It smelled, I think, a bit like oatmeal cookies. The smell also lasted quite a while after using it. A nice, light scent that I noticed every now and then. I am particularly intrigued by the Coconut Plumeria scent, so I will most definitely be trying that one next.
The true test of a soap, I believe, is how the skin feels after you've dried off. Some soaps leave skin feeling parched and dry, others leave an odd, wax-like film. I was very happy to find that my skin felt clean but soft and moisturized. This is unusual for my finicky skin, especially after a hot shower. They must really be onto something with these hops!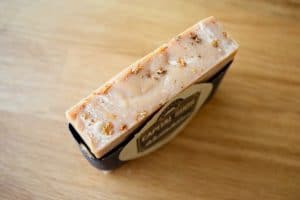 I highly recommend trying some soap or any other bath product from Capital Suds. I can't wait to try out the Coconut Plumeria soap as well as their Chocolate Coffee Mask! And for those of us who love beer, what an awesome way to get some brew!
For the rest of July 2017, you can enjoy 25% off with the coupon code: EARTHPOWERED
Check them out here: http://www.capitalsuds.com