I love carbs and probably eat some at most meals. Coming from an Italian household, it was just part of our cooking. Bread and pasta were often the base of a meal but there was always a good loaf of bread on the side to sop up sauce. I always get a little sad when I hear about "gluten free" this and "low carb" that, because whole grains can be such a delicious and nutritious part of the diet for many people (those without allergies or Celiac, of course). But unfortunately, most of the bread that is available to us is so processed and packed with preservatives or added sugar, that we have completely lost the benefit of grain.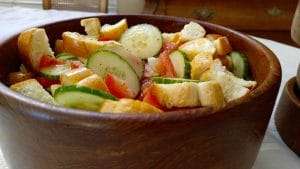 Good quality bread does still exist! Many grocery stores carry whole grain bread brands. We love the Ezekiel brand loaves, english muffins, and tortillas. There are also bakeries that still make bread in a simple way. Flour, water, yeast, salt, etc. And to be honest, indulging in a freshly baked baguette or fresh out of the oven sourdough every now and then is absolutely necessary.
I am very excited to share this recipe because my family eats it all the time. We make it every now and then just because it's so good, but we nearly always make it when we have company. It's one of those dishes that everyone loves and asks about. Of course, it could be because it's loaded with carbs. But this salad is something special. It carries an important aspect of Italian culture. Italians hate waste. Panzanella is another dish that helps to use up leftovers in a creative way. It's basically a salad meant to use up stale bread and whatever vegetables are hanging out in the fridge. This variety is my favorite. The crisp cucumbers, rich tomatoes, crunchy bell pepper, spicy onion, and toasted bread is just out of this world good. Let the salad sit awhile to let the bread soak up the delicious dressing and it's perfection.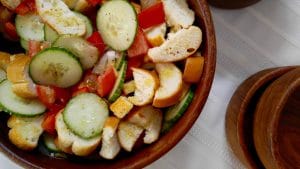 Panzanella
Ingredients:
loaf of baguette bread, stale is best but fresh works too
1 English hothouse cucumber, sliced into thin rounds
3-4 large ripe tomatoes, diced
2 red bell peppers, diced
1/2 red onion, finely diced
4 Tbsp olive oil
sea salt
Panzanella dressing
Directions
Chop the bread into small/medium size pieces. Put them in a large pot and drizzle the olive oil. Add salt to taste. Turn on the heat to medium and stir frequently to toast all the bread pieces. It helps to work in batches.
In a large bowl, add all the vegetables. Pour on the dressing and let chill for at least a half an hour.
Add in the bread and stir well. Let sit about a half hour longer. Enjoy!
Panzanella Dressing
Ingredients:
4 Tbsp olive oil
2 Tbsp apple cider vinegar
1 Tbsp Dijon mustard
1 Tbsp maple syrup
1 tsp Italian seasoning
salt and pepper to taste
Directions:
Whisk all ingredients together in a small bowl.