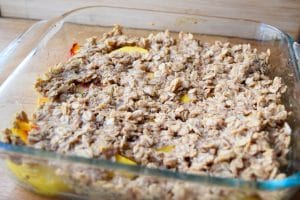 Peach season is such a precious time during the summer. It begins with peaches suddenly appearing on the grocery store shelves. But the first few batches of peaches, at least here in southern California, are always hard, sour, and dry. Suddenly, the peaches are perfectly ripe and sweet and so juicy they need to be eaten over the sink. And then, as soon as it has started, peach season is over.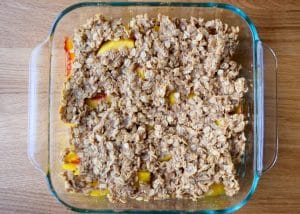 Of course, there's always the peach slices you can find in the little cups year round. The slices that are sitting in some kind of sugar syrup and show up in children's cafeterias. But there's nothing like a fresh, ripe peach at the height of the season.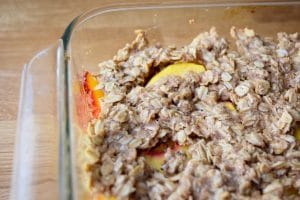 If we don't eat all the peaches and actually have some leftover to use, I make peach crisp. Peach crisp is such an awesome dish. We eat it drizzled with almond milk for breakfast and later have it on top of coconut ice cream for dessert. The more opportunities to eat peaches, the better.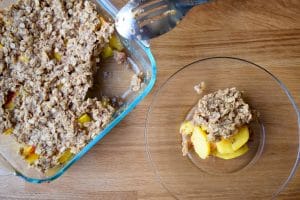 Baking peaches is a great way to use peaches that are slightly underripe, because the heat brings out the natural sugars and the juice. But ripe peaches are always best. This recipe also works well with other fruit, like apples, if it's no longer peach season.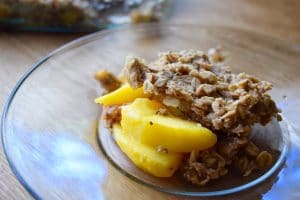 Peach Crisp
Ingredients:
4-5 fresh, ripe peaches; peeled and sliced
1 1/4 cup oats
3/4 cup flour
1/2 cup almond milk
1/4 cup coconut oil or vegan butter
1/4 cup maple syrup
1 tsp cinnamon
1/4 tsp salt
Optional: 1 Tbsp chia seeds
Directions:
Preheat the oven to 350 degrees F. In a saucepan, over medium-low heat, melt the coconut oil/butter. Stir in the maple syrup, cinnamon, and salt until combined. Add the milk, then the flour, then the oats. Stir well until a nice batter has formed.
Grease a small, oven safe casserole or cake pan. Spread the peach slices around the bottom. Pour the oat batter over the top and spread evenly over the peaches.
Bake for about 30 minutes, until the top is golden brown. Serve with milk for breakfast or ice cream for dessert!