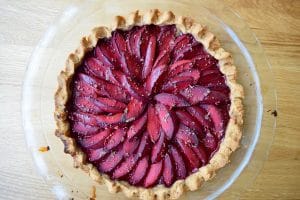 Dominik decided to potty train himself. We had started the process several months ago but with all the stress of remodeling (which is still not done), we put it on pause. We gently encouraged him to use the toilet, but he seemed to prefer diapers and didn't seem quite ready. Until about two weeks ago. One day he asked to use the potty. And then again a few hours later. And that was that.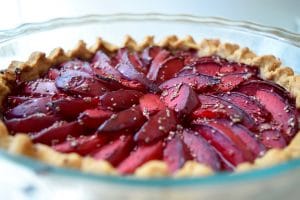 We wanted to mark the occasion and celebrate. What better way than a baked dessert?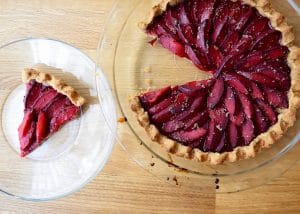 The last recipe I shared was a Peach Crisp. Peaches aren't the only stone fruit of summer. Plums are another favorite around here, getting eaten up as quickly as peaches. There are several varieties of plums, all with different flesh colors and degrees of sweetness. We've been enjoying the darker varieties lately as they seem to be sweeter and more robust in flavor.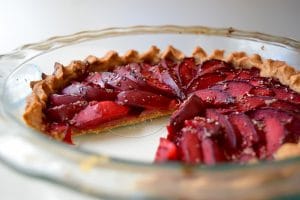 A tart is an excellent way to enjoy a fruit without mashing and chopping it up to be hidden inside a bread or cake or muffin. The fruit is arranged on top, showcasing it's color and shape and texture. I wanted to add a little pizazz to my plum tart as well as to boost the nutrition content. After all, I planned on eating most of it by myself. The addition of chia seeds to the tart adds protein, omega-3's, and a long list of vitamins and minerals. Chia seeds also help to keep all of those perfect plum juices from being lost in the crust or in the pan.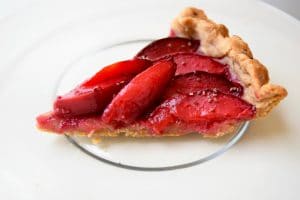 Chia Plum Tart
Ingredients:
1 1/4 cups flour
1/2 tsp salt
1/2 cup coconut oil or vegan butter, cold
1/4 cup very cold water
4-5 ripe plums, pitted and sliced
juice of half lemon
1/4 cup maple syrup
2 Tbsp chia seeds
Directions:
Prepare the pastry dough. In a large bowl, mix the flour and salt. Using a pastry cutter or food processor, cut the oil or butter into the flour until it resembles bread crumbs. Pour the water in a little at a time until the mixture comes together as a dough. Mix the dough until combined and chill for at least an hour.
In a large bowl, combine the plum slices, lemon juice, maple syrup, and chia seeds. Set aside until the dough is ready.
Preheat the oven to 400 degrees F. Roll out the pastry dough into a large disk, about 1/4 inch thick or less. Lay the dough over a greased pie pan or tart pan and press into desired shape, patching any holes or tears.
Fill the tart with the plums, in any arrangement you like. Pour the juice over the plums and bake for about 40 to 50 minutes, or until the crust is cooked and the juices are bubbling.
Let cool completely to allow the juices to thicken. Enjoy!