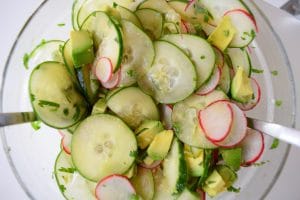 I'm still trying to up my salad game. It's so easy to fall into the same old boring salad night after night, but a salad can be a really great way to be creative. Summertime in particular is the best time to make salads. The variety of fresh vegetables and fruits that can be haphazardly thrown together for an amazing side dish is endless.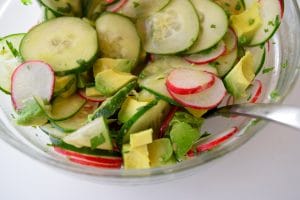 Cucumbers make a super refreshing salad base for super hot days, and their flavor pairs well with a ton of different veggies. Adding spicy and crunchy radishes to cooling cucumbers and creamy avocado ended up being the ultimate salad trifecta. A bit of zesty lime to bring it all together and you've got yourself the salad of summer.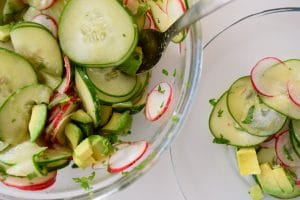 Cucumber, Radish, and Avocado Salad
Ingredients:
1 large cucumber, sliced very thin
4 radishes, sliced thin
2 ripe avocados, pitted and diced
1/4 cup olive oil
juice of 1 lime
zest of 1 lime
2 Tbsp maple syrup
salt and pepper, to taste
1/4 cup cilantro, chopped
Directions
Mix the cucumber, radish, and avocado in a large bowl.
Whisk together the olive oil, lime juice, maple syrup, and salt and pepper. Mix in the cilantro. Pour over the salad and chill in the fridge for at least 30 minutes. Enjoy!