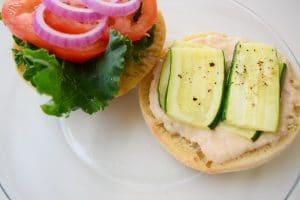 I sat down to write up this recipe and was about to start typing when my brain fizzled out. The toddler years are tough, exhausting, and mind-numbingly chaotic. And yet, I love being a mom to a toddler and would never trade a second of it. The past several weeks have been particularly tough because, as is normal for this developmental age, Dominik is pushing boundaries and testing limits. This has meant a whole lot of flushing toys, dumping water bowls, hitting, tantrums, and all around hyper maniac behavior. Never have a questioned my own parenting abilities more than I do now. So, every library checkout on my part has been a parenting book of some type.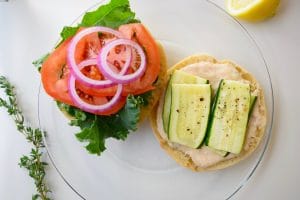 Every parenting book claims to have all the answers and they make it sound so simple and easy and so "if you were a good parent, you would do this". The problem is that everyone has different advice and different answers, so in end, I'm left even more confused. The positive side to absorbing all of these parenting philosophies is that I've truly come to appreciate how hard we, as parents, work to give our kids the best upbringing to our abilities. I'm still trying out different styles to try to tame my wild child, of course, just as an attempt to save some sanity. But the conclusion that I have come to, as of right now, is that parenting is all about instincts and love.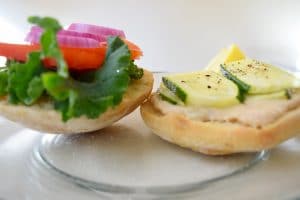 Dinnertime is a particularly difficult time of day as of late. The result? Super quick, super easy, and super delicious dinners that make us forget the long day that it was. This sandwich practically made itself and was so delicious. Vegan sandwiches can sometimes feel a bit lacking, but the fresh bread, crunchy vegetables, savory and hot zucchini, and the creamy bean sauce all come together to make a complete meal.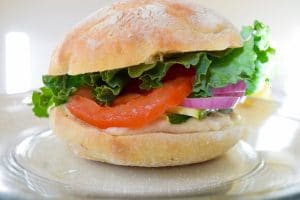 White Bean Zucchini Sandwiches
Ingredients:
4 medium zucchini, sliced
2 Tbsp olive oil
salt and pepper to taste
4 sandwich buns or 8 slices of bread (ciabatta works great)
1 bunch kale
1 large tomato, sliced
1/2 red onion, sliced
1 can cannellini beans
1/4 cup olive oil
2-3 cloves garlic, minced
2 tsp fresh thyme
1/2 tsp salt
juice of half a lemon
Directions:
Preheat the oven to 400 degrees F. Cut the zucchini into 1/4 inch slices and arrange in a casserole dish with 2 tablespoons of olive oil and salt and pepper to taste. Roast for about 15 to 20 minutes, until zucchini is soft.
In a blender, combine the cannellini beans, 1/4 cup olive oil, garlic, thyme, 1/2 teaspoon of salt, and lemon juice. Blend until smooth.
On the sandwich buns, spread the bean mixture liberally. Then add the roasted zucchini, kale, tomato, and onion. Enjoy!