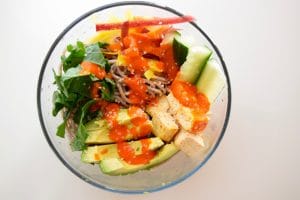 I recently did yet another major household purge of stuff. Although the bathroom is still not done, we finally got to the point that we could move back into our bedroom. So, I figured I might as well go through all of our stuff since I had to reorganize and clean everything anyway. We don't have a whole lot to begin with (or at least compared to the average American home), but I was still able to gather a whole carload worth of stuff.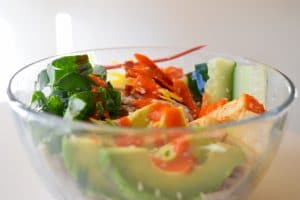 We have been working on this bathroom so long and Daddy spent so many weekends on it that my two year old has caught on to a new phrase. Whenever he doesn't want to do something, he refers to it as "working on the bathroom". For example, tonight when I said it was time to brush his teeth, he replied that his teeth were "working on the bathroom".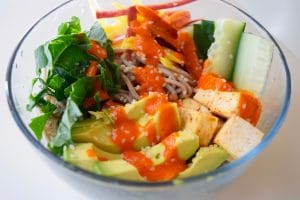 To fuel this cleaning-mania that I had developed, a good ol' buddha bowl was in order. But with the summer heat, I wasn't too keen on an overheated kitchen and hot meal. At first, I wasn't sure how a cold buddha bowl would be. Would it be more like a salad? Or feel like it just sat out too long? No and no. This bowl is hearty, satisfying, complete, delicious, and perfect for a hot day.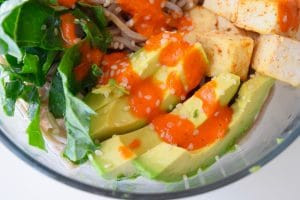 Cold Soba Buddha Bowls
Ingredients:
1 package soba noodles
1 cup kale, chopped
1 avocado, pitted and sliced
3 carrots, sliced into thin sticks
1 package tofu, cubed
2 Tbsp coconut oil
1 tsp chili powder
3-4 Tbsp tamari
2 roasted bell peppers
3 garlic cloves
1/4 cup water
1 tsp salt
juice of 1 lemon
sesame seeds, for garnish
Directions:
Prepare the soba noodles according to the package directions. Rinse in cool water and set aside in the fridge to chill.
Mix the tamari and chili powder together and use it to cover the tofu. Cook the tofu in the coconut oil on a skillet over medium heat. Cook for about 10 minutes, being sure to cook the tofu on all sides. Set aside to cool.
In a blender, blend the bell peppers, garlic cloves, salt, and lemon juice. Add a little water at a time until the mixture is smooth.
In individual bowls, arrange the soba noodles, tofu, kale, avocado, and carrots. Pour a few tablespoons of the red pepper sauce over each bowl. Sprinkle sesame seeds over the top and enjoy!