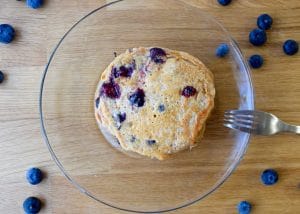 A major thing we have been working around here is table manners. My toddler is at the age where mealtime is less about learning about how to eat many different foods and more about how to eat those foods without making a mess. Like with many other two year olds, mealtime can be chaotic. Between trying to get up to scold our dog and trying to cut vegetables right on the table, we are certainly not ready for nice restaurants and multiple courses.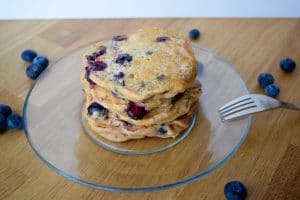 We consider it a high priority to get Dominik eating politely and neatly, mostly because a chaotic mealtime can take the magic away from family time. When everyone is sitting nicely while they eat, that leaves room for conversation, laughter, and a deeper appreciation of the food.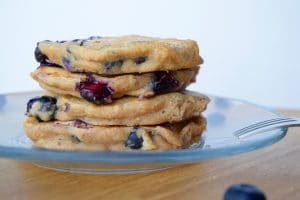 Breakfast remains the easiest meal of the day. My son is still a bit groggy and is always starving by morning, so sitting through the entire meal has usually been pretty simple. As the end of blueberry season draws nearer, we are using these perfect little berries in everything. Growing up, I always loved blueberry pancakes. Pancakes are amazing just as they are, but with blueberries? Breakfast heaven.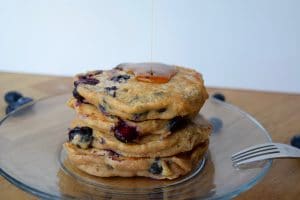 The addition of bananas into the pancake batter makes for sweeter and softer pancakes. The light banana flavor pairs perfectly tart blueberries and a dash of cinnamon makes it something special. Any berry will do for this recipe, as it is super easy and adaptable.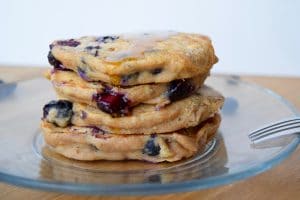 Banana Blueberry Pancakes
Ingredients:
2 cups flour
2 tsp baking powder
1/2 tsp salt
1 tsp cinnamon
2 cups milk
2 ripe bananas, mashed
2 tsp vanilla extract
1 cup blueberries
2-4 Tbsp vegan butter or coconut oil
Directions:
In a large bowl, mix the flour, baking powder, salt, and cinnamon. In a separate bowl, whisk together the milk, bananas, and vanilla. Pour the wet mixture into the dry and whisk only until incorporated (lumps are okay). Gently fold in the blueberries.
Heat the butter/oil in a pan over medium heat. Add the batter about 1/4 cup at a time to form pancakes. When the batter is bubbling and appears solid at the edges, flip the pancake. Cook until both sides are golden brown.
Serve hot with syrup!