A few weeks ago my mom, my sisters, and I went through my grandmother's cookbooks. At first, I wasn't sure if it would just be a ton of dated recipes using cans of pineapple or for jello salad. Oh, no. It was like we struck gold.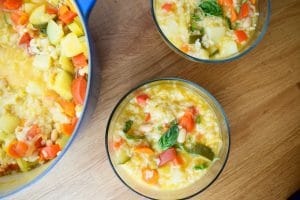 There were German cookbooks, Slovak cookbooks, Armenian cookbooks, Mexican cookbooks, and an array of Italian cookbooks. Although many of the books were decades old, most of the recipes sounded delicious. Many of these recipes I had never heard of or were traditional, tried and true gems.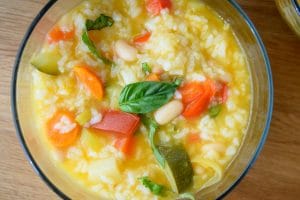 This recipe was inspired by one of the many Italian cookbooks. My grandmother was from a Slovak family and married an Italian man. So it was important to her to master Italian cooking, of course while bringing in recipes of her own. While going through her Italian cookbooks, I learned a ton but ended up very hungry. The recipe that stuck out to me on this hot summer day was, surprisingly, a soup.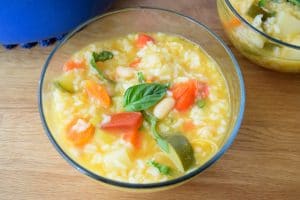 Minestrone freddo alla Milanese, or, cold vegetable soup, Milanese style from The Classic Italian Cookbook by Marcella Hazan. The recipe comes from restaurants in Milan that make a vegetable soup in the morning and leave it sitting out. By lunchtime, it's the perfect temperature for a hot summer day. I altered it quite a bit to make it vegan and to include vegetables that I preferred. But the basic idea is the same. A hearty and filling soup with all the lovely flavors and textures from seasonal vegetables. The perfect way to eat soup when it's hot!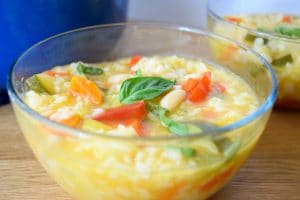 Minestrone Freddo alla Milanese
Ingredients:
2 Tbsp olive oil
1 leek, thinly sliced
3 garlic cloves, minced
2 cups peeled and diced potatoes
1 cup finely chopped carrots
1 red bell pepper, finely diced
2 zucchinis, diced
1 cup diced tomatoes
6 cups vegetable broth
2 cups cooked short grain rice
1 can cannellini beans, drained and rinsed
1/4 cup basil, cut into strips
Directions:
Heat the olive oil in a large pot over medium heat. Add the leeks and saute until fragrant, about 2 minutes. Add the garlic and cook for about a minute more. Stir in the carrots and potatoes and cook for a few minutes. Add the bell pepper and zucchini and continue to saute the vegetables for about 5 minutes.
Pour in the vegetable broth and the diced tomatoes (and their juices). Cover and gently simmer for about 1 hour.
Prepare the rice (bring 1 cup rice and 2 cups water to a boil, turn down heat to simmer and cover until all liquid is absorbed).
Turn the heat off of the soup and stir in the rice and beans. Ladle the soup into bowls and stir in the basil. Let sit until the soup has cooled completely and has chilled. Pop in the fridge to cool even further if desired.