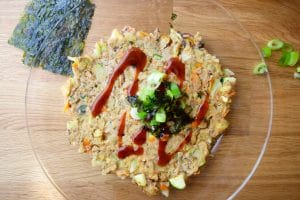 I am in a constant search for new and different recipes. I get bored eating the same thing too often, which drives my husband crazy. He would be perfectly content to eat spaghetti everyday. For me, it has to be pretty darn amazing for me to want to eat it more than a once or twice a week. So aside from a few favorites and staples, like spaghetti or lasagna, I don't usually repeat recipes. Even my burrito and Buddha bowls are always slightly different.
I'd like to think (I hope) that my ever changing menus have helped my son to be a more adventurous eater. Although he will sometimes assert some control over mealtime by refusing to eat a particular ingredient, there hasn't been anything that he didn't enjoy eating at one time or another. I wonder if perhaps the absence of "kid friendly" staples at the table have kept up his interest in new foods. Then again, he could just really like to eat like his parents.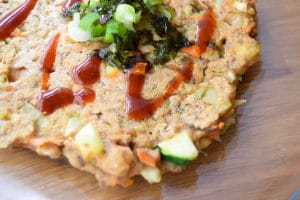 I've been meaning to make Okonomiyaki for a while now, because it's one of those super easy, versatile, and delicious dishes. Okonomiyaki are basically savory Japanese pancakes with various ingredients and toppings, depending on the region and who's making it. This is my own spin on Okonomiyaki, but any favorite vegetables or additions to a basic savory pancake batter will turn out amazing.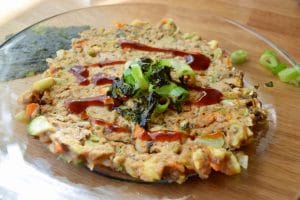 Okonomiyaki
Ingredients:
2 cups finely chopped cabbage
2 cups finely chopped mushrooms
1 medium zucchini, finely chopped
1 medium carrot, shaved and chopped
1 scallion, finely chopped
1 inch piece of ginger, minced
3 cloves garlic, minced
2 cups flour
1 tsp baking powder
2 chia eggs (2 Tbsp chia seeds soaked in 8 Tbsp water)
2 cups unsweetened nondairy milk
2 Tbsp tamari
4 Tbsp coconut oil
Directions:
In a large bowl, mix together the cabbage, mushrooms, zucchini, carrot, scallion, ginger, and garlic. Set aside.
In another bowl, mix together the flour and baking powder. In a third bowl, mix together the chia eggs, milk, and tamari. Pour the wet mixture into the dry and whisk until a smooth batter is formed.
Pour the batter over the vegetable mixture and stir well until combined. Heat the coconut oil, a tablespoon every few pancakes, over medium heat. Add the vegetable packed batter to the pan until it forms a flat, round pancake. Cook on each side for about 5 minutes, until golden brown.
Serve with garnishes like seaweed, scallions, and Okonomiyaki sauce.
Vegan Okonomiyaki Sauce
Ingredients:
4 tbsp ketchup
2 Tbsp vegan worchestershire sauce
2 Tbsp tamari
1-2 Tbsp maple syrup
Directions:
Mix all ingredients together well and serve!