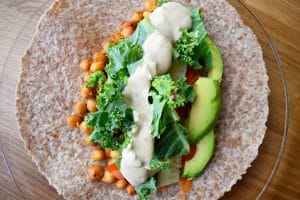 We did our family trip to the library over the weekend. What I love most about these trips, aside from the fact that it is a free activity to do as a family, is that our library has a little garden. Through a few doors off of the children's section is the most perfect walled in garden. There's a gazebo for shade, benches everywhere, and it's packed with trees and plants. Not to mention that it's completely swarming with butterflies! I love it because I can park myself on a bench with a book while Dominik wanders around exploring and chasing butterflies.
We've been frequenting the library a ton this summer because it's such a nice way to escape the heat and crowds. Did I mention that it's free? When we aren't at the library or sweating outside, I am in the kitchen cooking things that require the least amount of heat possible. That means a ton of fresh vegetables and ingredients that cook quickly.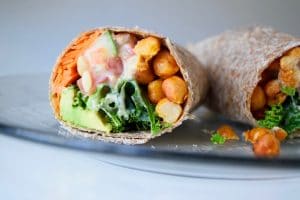 As someone who loves burritos, it's a surprise that I don't make veggie wraps more often. All that you're doing with a wrap is replacing the beans and rice with vegetables, sauces, and sometimes something like hummus or tofu. So one particularly lazy night, armed with tortillas and vegetables, I tackled the veggie wrap.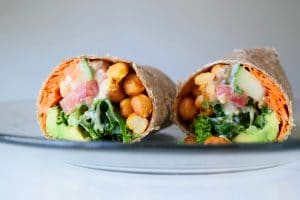 These wraps are insanely delicious. Smoky chickpeas have quickly become a snack time favorite around here because they are just so addictively good. In a wrap, they add the flavors and textures that one would typically get from meat in a sandwich, so they were easily able to complete this vegan sandwich. That was the best part: it doesn't feel like you're eating a vegan veggie wrap! It's hearty and rich and fresh and so yummy. The Tahini Dill Sauce works perfectly to add a cool, creaminess while the fresh veggies add crunch and freshness. A true winner!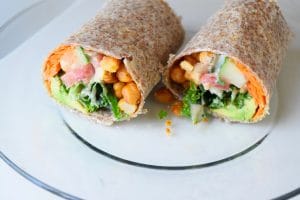 Smoky Chickpea Wraps With Dill Tahini Sauce
Ingredients:
1 can chickpeas, drained and rinsed
2 tsp smoked paprika
1 tsp chili powder
1 tsp salt
2 Tbsp olive oil
1 cucumber, sliced into spears
3 carrots, grated into long and thin sticks
1 cup kale, chopped
2-3 tomatoes, chopped
1 avocado, pitted and sliced
4 whole grain tortillas
Directions:
Preheat the oven to 425 degrees F. Mix the chickpeas with the paprika, chili powder, salt, and olive oil. Spread them out on a baking sheet and roast for about 25 to 30 minutes.
Prepare the Tahini Dill Sauce and set aside.
On a tortilla, arrange the chickpeas with a few sliced of cucumbers and carrots, some kale, a handful of tomatoes, and several slices of avocado. Pour a few tablespoons over the vegetables and roll like a burrito. Slice in half and repeat with about 3 more tortillas until everything is used up. Enjoy immediately!