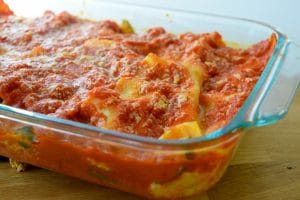 As someone from an American Italian family, I'm slightly embarrassed that I have not posted a lasagna recipe yet.  There are certain recipes that are so engrained into me that I forget to share them.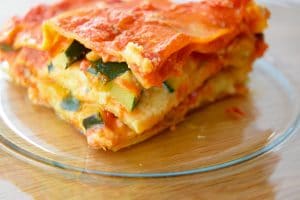 Of course, this isn't the lasagna recipe that I grew up with, although it's not too far off. My mom, being vegetarian, typically made lasagna without the meat that many other recipes include. The version I grew up with had nice thick layers of ricotta and mozzarella with a perfect homemade sauce.  The challenge was trying to create a vegan version that was just as delicious, or at least close, to my mother's.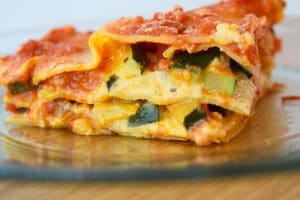 Fresh, seasonal vegetables set this lasagna apart from the one I grew up with, but it was an addition well chosen. The vegetables add a lovely earthy freshness to the bright and rich tomato sauce. And the cashew cheese? Creamy, tangy, smooth, and so cheese-like, you won't miss the ricotta.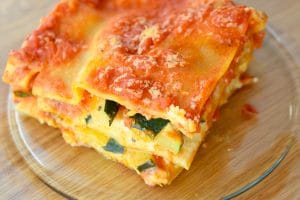 Vegetable Lasagna
Ingredients:
lasagna noodles*
1 cup cashews
1 garlic clove
juice half a lemon
2-3 tsp dijon mustard
2 Tbsp olive oil
1/2 cup water
1/4 cup nutritional yeast
2 Tbsp olive oil
2 cups chopped mushrooms,
1 red bell pepper, diced
2 medium zucchini, diced
1/2 onion, diced
4 cups tomato sauce **
salt and pepper
*some lasagna noodles can be used right out of the box and some need to be preboiled, follow the package instructions. Noodles that don't need to be boiled do better with extra sauce or a bit of water in the cooking dish.
**either use a homemade recipe, like the one linked, or just used your favorite jar.
Directions:
Soak the cashews in water for at least an hour. Prepare the sauce if using homemade, set aside. Preheat the oven to 400 degrees F.
Prepare the cashew ricotta. Drain and rinse the cashews. Blend with the garlic, lemon juice, water, nutritional yeast,olive oil,  and some salt and pepper to taste. It should be creamy and smooth.
In a large saute pan, heat 2 tablespoons olive oil over medium heat. Cook the onion until translucent. Add the mushrooms, bell pepper, and zucchini and cook for about 10 minutes, until the vegetables begin to soften.
Pour several tablespoons of tomato sauce onto the bottom of a large casserole. Lay the lasagna noodles in a single, complete layer. Spread half the cashew cheese sauce over the noodles and then half of the vegetable mixture on top. Pour about a cup of tomato sauce over the vegetables. Lay another layer of lasagna noodles and repeat the process. Lay a final layer of lasagna noodles on top and finish off with the rest of the sauce. Sprinkle a little nutritional yeast on top if desired.
Cover the lasagna with foil and bake for about 40 to 45 minutes, until the noodles are soft and the sauce is bubbling. Serve hot and enjoy!