I've been toying around with my bread machine lately in an attempt to teach myself some more baking/dough creating techniques. The toddler and I were playing outside when the timer went off to transfer the dough to a floured surface for additional rising. My son was happily playing in the dirt, right next to the kitchen window so I went in quickly to get the dough. As soon as my hands were covered in a mass of the stickiest bread dough ever, what does Dominik do? He begins to run to the door and pour mud inside the house and then runs back to start the process again. Great. Thanks toddler.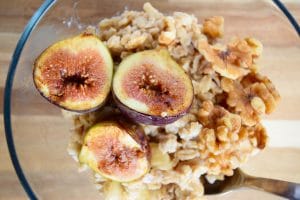 One way I know always tames the toddler beast is to just give him fruit to snack on. Instant quiet and calm. We are still on quite a fig kick around here. My son loves fruit in general, but he's really taken to snacking on these subtly sweet fruits. Because the flavor of figs aren't too sweet when raw, roasting them is such a great way to bring out their natural sweetness and to deepen their flavor. Although roasted figs are fantastic on their own or over ice cream or in any porridge, they work perfectly in this breakfast dish.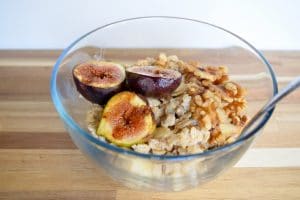 Rich, sweet, and warm figs are an amazing addition to fluffy oatmeal, creamy bananas, and crunchy walnuts. I love when a dish comes together like this, when each ingredient plays an important role in balancing everything out. I'll be sad when fig season is over because roasted figs are definitely a slice of awesome.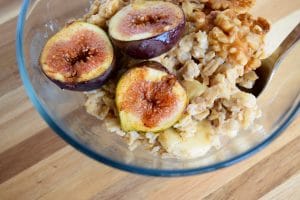 Oatmeal With Bananas, Walnuts, and Roasted Figs
Ingredients:
6-8 fresh figs, halved
4 Tbsp vegan butter or coconut oil
1 tsp cinnamon
4 Tbsp maple syrup
1 1/2 cups rolled oats
1 1/2 cups almond milk
1/2 tsp salt
1 banana, sliced
1/2 cup walnuts
Directions:
Preheat oven to 400 degrees F. Put the figs in a small oven safe pan, cut side up. Melt the butter/oil and stir in the cinnamon and maple syrup. Pour over the figs. Roast for about 10 to 15 minutes, until the figs are just softening.
In a saucepan, bring the oats and milk to a boil. Reduce heat to simmer and cook, stirring frequently, until the liquid is absorbed and the oats are thick and soft.
Serve the oatmeal with the sliced banana, a handful of walnuts, and a few figs in each bowl. If you like your oatmeal sweeter, add an extra drizzle of maple syrup to complete it. Enjoy!