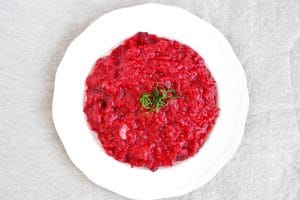 There are a few items in my kitchen that I cannot live without. My chef's knife, a stainless steel pot, my dutch oven, and a wooden spoon are just a few. One of these items is a book. More specifically The Vegetarian Flavor Bible by Karen Page. She also wrote The Flavor Bible, which I also have and is fantastic, but the vegetarian one has much more information for my plant based kitchen. There are a few sections on cooking and food but the book is basically a list of ingredients and what flavors/ingredients go well with them. If you like to cook and don't have this book, get it.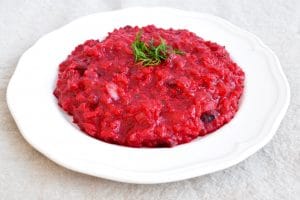 Whenever I'm stuck on what I should make, I love to flip through this book. I look up what's on sale, what I have, or things I want to use. What I find helps me to start out a recipe or verifies that I'm not the only person that thinks certain ingredients work well together. This time, I was trying to figure out what kind of risotto to make. We often make mushroom or vegetable risotto but I wanted something different. And then I found the suggestion to use beets, fennel, and dill together. I was intrigued.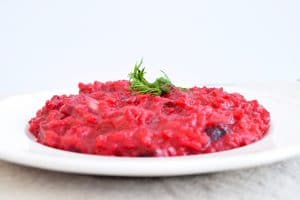 I make risotto quite often. It's simple and just a few key ingredients turns out a flavorful, rich, and hearty meal. But out of all the risotto recipes I have tried, this is definitely my favorite. Rich risotto is enhanced by earthy beets, sweet fennel, and fresh dill. Of course, there's the gorgeous pink color, too. This just became my go-to risotto recipe. So delicious!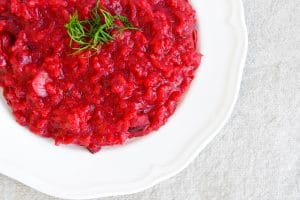 Beet and Fennel Risotto with Dill
Ingredients:
3 medium beets, peeled and diced
4 Tbsp olive oil
3 cloves garlic, minced
1 fennel bulb, finely chopped
1/2 cup dry white wine
1 3/4 cups arborio rice
6 cups vegetable broth
2 Tbsp fresh dill, plus more for garnish
salt and pepper
Directions:
Preheat the oven to 400 degrees F. Toss the beets in 2 tablespoons of olive oil and sprinkle with salt and pepper. Bake for about 45 minutes, until the beets are soft. Use a hand blender, blender, or food processor, puree the beets. Leave some of it slightly chunky for the texture.
In a large pot, heat 2 tablespoons of olive oil over medium heat. Add the garlic and fennel and cook for about 5 minutes to soften the fennel. Stir in the rice and cook for about 2 minutes. Pour the wine in and cook, stirring frequently, until the liquid is fully absorbed.
Add the broth 1 cup at a time. After each cup, stir frequently while cooking to release the starches. Cook until each cup of broth is completely absorbed before adding the next one. Continue until all the broth is used.
Stir the beets and dill into the risotto and cook an additional 5 minutes. Turn off the heat and taste for seasoning. Serve with a garnish of dill and enjoy!