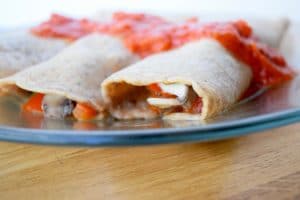 When I was a 17, my sister and I went to Paris with our dad. It was our first time to Europe, so we were thrilled. Even through the eyes of an angsty teenager that missed her boyfriend, Paris was all it's described to be. The roads, the buildings, the bridges, even the smell were all so Parisian and perfect. We sat at little tables on the sidewalk of little cafes, sipping wine (I was thrilled to be able to drink wine) and people watching.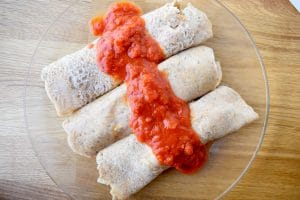 We did some touristy shopping and sightseeing, but I will never forget the Louvre. As an artist, it was absolute paradise. Room after room of sculptures, paintings, drawings, and historical artifacts. The very air seemed to be charged with the kind of magic that only art can conjure. As a stood and stared up at the Psyche Revived by Cupid's Kiss statue by Antonio Canova, my heart sang and I nearly cried. The Louvre remain my favorite place in the entire world.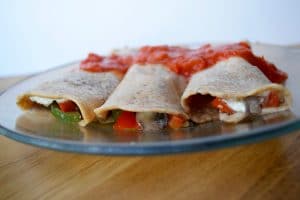 Another memory of that trip that sticks out is the Eiffel Tower. It's every bit as amazing as the pictures hint at. When you go inside, there's a little cafe about halfway up. Now, I am terrified of heights. I won't even go near windows in tall buildings. So, I didn't make it to the top of the Eiffel Tower. As my dad and sister made the trip up, I stayed behind and munched on nutella crepes. Crepe stands were peppered around Paris, and we stopped at every one we found. The bread is incredible in Paris, but the crepes? Oh, those were melt in your mouth delicious.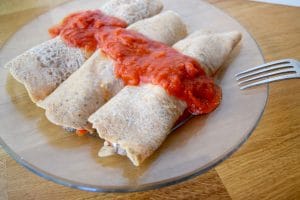 Crespelles are basically crepes, in Italian. Super thin and simple pancakes can be found in a number of different cultures, which is not surprising because they are delicious. The great thing about crepes/crespelles is that they can be eaten with sweet or savory fillings.
These vegan crespelles are filled with a creamy cashew ricotta and seasonal vegetables. Finished off with tomato sauce, it's like a fancy version of lasagna. Delicate, light, creamy, fresh, and so delicious!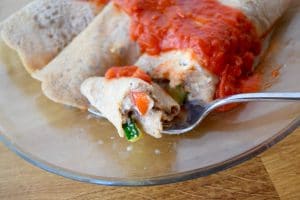 Crespelles With Cashew Ricotta And Vegetables
Ingredients:
3/4 cup flour
1 cup unsweetened almond milk
1 chia egg (1 Tbsp chia seeds plus 4 Tbsp water)
2 Tbsp vegan butter or coconut oil
2 zucchinis, diced
1 cup mushrooms, chopped
1 red bell pepper, diced
1 shallot, minced
1 cup cashews
4 Tbsp olive oil
3 garlic cloves
juice half a lemon
1 tsp Italian seasoning
salt and pepper, to taste
optional: 2-4 Tbsp nutritional yeast
2 cups prepared tomato sauce
Directions:
Prepare the cashew cheese. Soak 1 cup of cashews in water for at least an hour. Drain and rinse. In a high powered blender, add the cashews, 2 tablespoons olive oil, garlic cloves, lemon, and Italian seasoning. Blend until smooth. Add water a few tablespoons at a time if the mixture is too thick.
Prepare the vegetables. In a large pan, heat 2 tablespoons of olive oil over medium heat. Saute the shallot until fragrant, about 2 minutes. Add the red bell pepper, mushrooms, and zucchini. Cook until soft, about 10 minutes.
Prepare the crespelles. In a large bowl, mix the flour, milk, and chia egg. Heat the vegan butter/coconut oil in a nonstick pan over medium heat. Add the batter about 1/4 a cup at a time, moving the pan around quickly to get the batter as thin as possible. When all of the batter appears dry, gently flip the crespelle. Cook for about a minute more before transferring to a plate.
Fill each crespelle with cashew cheese and vegetables. Roll them up and cover them with tomato sauce. Serve immediately.