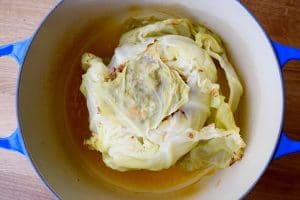 My grandmother came from very strong roots. Her mother, Anna, came to America for the "American Dream" from what was then Czechoslovakia with no money in her pockets. She settled in Massachusetts, married a man from Russia, and had ten children. But it was no fairy tale; Anna was nearly stabbed by her husband and she was left to raise ten children by herself.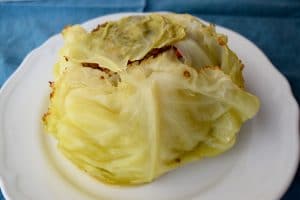 One of those children was Mary, my grandmother. Many young girls of that time simply married to move from home and establish their own household. But my grandmother saved her money in order to send herself to nursing school. Starting at age 9, she and her peers would hop aboard the back of a truck that came to her neighborhood and ride into the tobacco fields for a day of work. Mary moved to New York and was quite successful as a nurse, even becoming head nurse for a New York hospital. There, she would meet my grandfather, Rocco, head surgeon.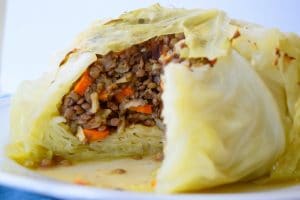 My grandmother was Czech, but trips to her house were heavy on the Italian culture of my grandfather. We ate Italian food, followed Italian traditions, and spent time with his Italian family. My grandmother always said that Italian blood was so strong, it could take over your own blood. So there was very little that I learned about my grandmother's culture and traditions that she grew up with. I recently came across one of her Czech cookbooks, and I hoped that I could learn a little more about her roots through the food on the pages.
One recipe in particular caught my eye: Stuffed Cabbage Head. I had heard of Cabbage Rolls, but I have yet to try them. Stuffed Cabbage Head sounded like a good place to start, not to mention a lovely and dramatic entree. The recipe called for ground beef, among other ingredients I either didn't have or couldn't use. Lentils make a great meat replacement, particularly for recipes using ground beef. With the right seasonings, they are just as rich and satisfying, not to mention much healthier. They're a fantastic source of protein as well as a great source of B vitamins. So, using the basic principles of the recipe, I made it plant based and very flavorful.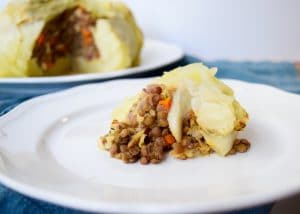 The cabbage head bakes to tender perfection, soaking up all the flavor from the vegetable broth that steams it. The lentil stuffing packs a punch of savory flavors: earthy lentils, garlic, carrots, paprika, and oregano. And luckily, my part-Polish husband was able to educate me that cabbage dishes are fantastic served with mustard. It was amazing. Hopefully something my grandmother and great-grandmother would enjoy and approve of.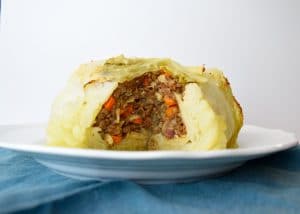 Lentil Stuffed Cabbage Head
Ingredients:
1 head cabbage
1 cup brown lentils, rinsed
1/2 onion, finely chopped
2 medium carrots, peeled and finely chopped
3 garlic cloves, minced
1/2 tsp paprika
1 tsp oregano
2 chia eggs (2 Tbsp chia seeds mixed with 8 Tbsp water, let sit 5 minutes)
4 Tbsp vegan butter or olive oil
1/2 cup vegetable broth
horseradish mustard, for serving
Directions:
Bring 1 cup lentils and 3 cups water to a boil. Cover and reduce heat to simmer. Cook for about 30 minutes, until most of the liquid is absorbed and the lentils are soft. Set aside.
Preheat the oven to 375 degrees F. Cut the core out of the cabbage head. Continue to scoop out the center of the cabbage, leaving about an inch thick shell. Discard the core and chop about a cup of the removed cabbage. Set aside. *If your cabbage head is rolling about, it can help to cut a bit off of the other end to create a flat surface for the cabbage to stand on.
In a large saute pan, heat 2 tablespoons of the butter/oil over medium heat. Cook the onion until translucent, several minutes. Add the carrots, garlic, and cabbage and cook for about 10 minutes. Stir in the lentils, paprika, and oregano and cook for another minute or two. Mix the chia egg ingredients together and let sit for about 5 minutes to thicken. Add the chia egg and stir well.
Put the cabbage in a deep casserole pot. Firmly press as much of the lentil mixture into the cabbage head as will fit. There will be some extra, save it for leftovers or for extra servings. Cover the top of the cabbage head with one of the cabbage leaves. Add 2 tablespoons of butter/oil and 1/2 cup vegetable broth to the casserole. Cover and bake for 1 hour.
Serve sliced with some mustard for mixing and dipping. Enjoy!