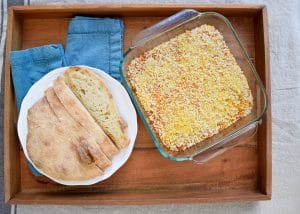 As is usual with long weekends, we were very busy. Friday morning, we woke up to a free three day weekend. But by the end of the day, we had every day fully booked with playdates, visiting friends, and family events. It was busy, but it was nice to visit with so many people we hardly see.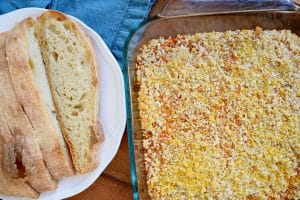 Busy weekends usually mean the house is super messy by the time it's over. It's crazy how a few days of no housework means piles of laundry and dishes, especially if there are kids around. Nevertheless, we made the time to go to the library today in honor of National Read a Book Day. Going to the library is one of Dominik's absolute favorite things to do. I often hear him playing with his cars and pretending that they are "going to the library to see books".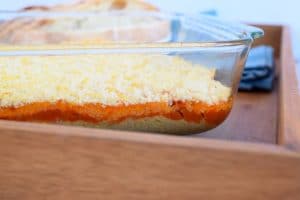 A full weekend did not mean it was without some cooking! With my husband home during the day, I took full advantage of another pair of hands and made some really yummy things that I had been meaning to try.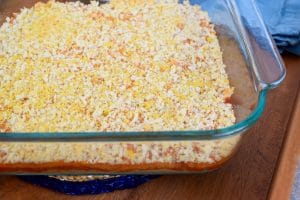 Eggplant Parmesan is one of those dishes that I crave constantly. When we go to my mom's for a Sunday dinner, she asks me what I feel like eating. My answer is usually her eggplant parm. I make it occasionally at home, but it's pretty labor intensive, which is hard with an active toddler. But there's something so perfect about the way the flavor of eggplant pairs with tomato sauce.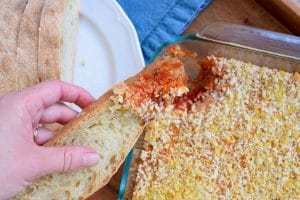 This dip is so simple and so crazy delicious. It really does taste just like eggplant parmesan. You get the creamy and earthy flavor of the eggplant, the rich tomato sauce, and the crunchy crust of breadcrumbs on top. Because this is a vegan recipe, I've omitted the usual cheese, but it really doesn't need it because of that creamy eggplant. This is also amazing stirred up into pasta for creamy sauce. Definitely a winner!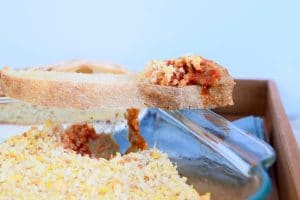 Vegan Eggplant Parmesan Dip
Ingredients:
1 medium eggplant, peeled and diced into cubes
2 Tbsp olive oil
1 clove garlic
1/2 tsp salt
2-3 cups prepared tomato sauce
3/4 cup breadcrumbs
1/4 cup nutritional yeast
Directions:
Preheat the oven to 400 degrees. Toss the eggplant in the olive oil and roast on a baking sheet for about 30 to 40 minutes, until soft.
Transfer the eggplant to a blender or food processor. Add the garlic clove and salt. Blend until creamy and smooth.
Grease a small casserole (I used an 8 x 8) with a little olive oil. Spread the eggplant puree evenly on the bottom of the pan. Spread an even layer of tomato sauce on top of the eggplant layer. Sprinkle the breadcrumbs and nutritional yeast on top.
Bake the dip for about 10 minutes, until it is bubbling and the breadcrumbs are golden. Enjoy with fresh bread, crackers, chips, or mix it into pasta.