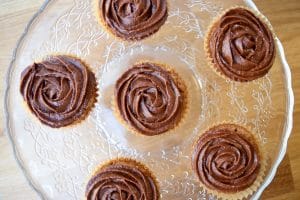 Do you ever have one of those days when a cupcake is absolutely necessary? Yep, I have them all the time. Lack of sleep and a hyper toddler may have been a factor in my sudden need for sugary goodness, but cupcakes are good anytime. No need to wait for special occasions for a personal cake!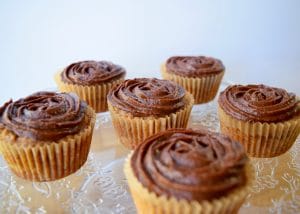 I usually make frosting with coconut cream, but the downside to that is that the frostings are quite light. Don't get me wrong, coconut frosting is the bees knees, but I really wanted to create a thick and substantial frosting. Also, my cupcake of choice was apple, because I just can't get enough of them as the season start. Apple can be a good, strong flavor so I wanted to frosting to match up and hold it's own. Date frosting is perfect for this cupcake. The flavor of dates go really well with apples and chocolate, so all of the flavors work nicely. I can't remember where I saw date frosting, probably somewhere on Pinterest, so I whipped up my own. It's super easy and straightforward, so feel free to make it your own!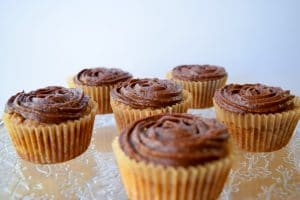 The date frosting tastes just like regular, sugar laden frosting. It's super sweet and lusciously creamy, everything a good frosting should be. You can add more cocoa powder for a richer chocolate taste, but toning down the chocolate keeps both the chocolate and apple flavors matched perfectly. The cupcakes are packed with apple goodness in every bite, making a cake that's soft and moist. I love spelt flour in cupcakes because it gives such a perfect light texture while maintaining the health benefits of a whole grain flour. Chocolate and apples create the perfect fall dessert, plus these are refined sugar free and made with whole, natural ingredients!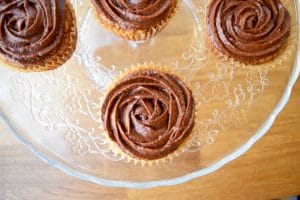 Apple Cupcakes with Chocolate Date Frosting
Ingredients:
1 1/2 cups spelt flour
1 1/4 tsp baking powder
1/2 tsp salt
1 tsp cinnamon
4 Tbsp vegan butter or coconut oil, melted
3/4 cup maple syrup, room temperature
1 chia egg (1 Tbsp chia seeds and 4 Tbsp water)
1 tsp vanilla
1/4 cup almond milk, room temperature
2 large apples, peeled and grated
2 cups pitted dates
1 cup almond milk
1/3 cup cocoa or cacao powder
Directions:
Preheat the oven to 350 degrees F. Line a cupcake pan with liners.
In a large bowl, mix the flour, baking powder, salt, and cinnamon. In a separate bowl, whisk together the maple syrup and butter. Mix in the chia egg, vanilla, and almond milk.
Pour the wet mixture into the dry and stir until combined. Fold in the grated apples. Fill each cupcake liner about 3/4 of the way up.
Bake for about 20 minutes, or until a toothpick comes out clean. Cool completely on a cooling rack before frosting.
To make the frosting, soak the dates in very hot water for at least 10 minutes. Put the dates in a blender along with the milk and cocoa powder. Blend until smooth. Chill the frosting to firm up, about 30 minutes.
Frost the cupcakes and enjoy!