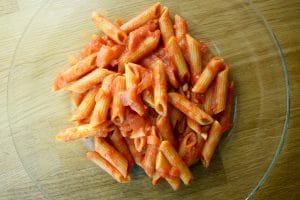 There really is no comparison between jarred sauce and homemade. Jarred sauce is great to have on hand for a ridiculously easy dinner or to use in a dish that already has a lot of involvement. My mom makes all of her sauce from scratch, usually in large batches so that she can freeze the extra. I try to remember this trick so that I always have homemade tomato sauce, but I get so excited to have extra, that I end up using it within the week.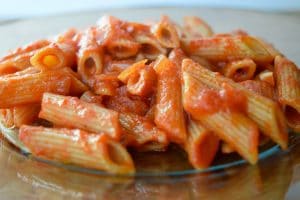 Arrabbiata sauce is so close to regular tomato sauce. Seriously, all you have to do is add chili flakes to a basic tomato sauce and voila, arrabbiata sauce. The word arrabbiata means "angry", alluding to the spiciness of this red sauce. It's one of my favorites because chili flakes just make tomatoes that much richer and satisfying. Although it's not really traditional, I like to add red wine to my recipe because it deepens the flavor even more.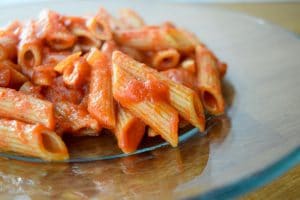 Sugo All'Arrabbiata
Ingredients:
32 oz. can/jar of tomato sauce (just tomatoes)
1 Tbsp. olive oil
3 cloves garlic, minced
1/2 onion, diced
1/2 tsp red chili flakes
1/4 cup red wine
salt and pepper, to taste
Directions:
Heat the olive oil in a saucepan over medium heat. Add the onion and cook until soft and translucent. Add the garlic and cook an additional few minutes, until fragrant.
Stir in the red pepper flakes and wine and bring to a simmer. Simmer for a few minutes to cook out the alcohol.
Add the tomato sauce and season with salt and pepper. Bring to a boil, reduce to simmer and cook gently for about 15 minutes.
Enjoy over pasta like penne or use it as a dip for crusty, fresh bread.