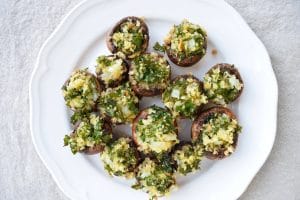 This is another recipe that reminds me of my grandmother. On holidays and special occasions, she and my mother would spend all day in the kitchen making big Italian-American feasts. As a child, I would run in and out of the kitchen over the hours, tasting and helping with different tasks. But something that my grandma and I always did together were the mushrooms. We would sit at her kitchen table, perhaps with her old black and white TV on in the background or with some seasonal music. She taught me how to properly remove the stem from a mushroom and create a mouthwatering filling. Now, in my own home, I can't help but want to make stuffed mushrooms just to feel a little closer to her.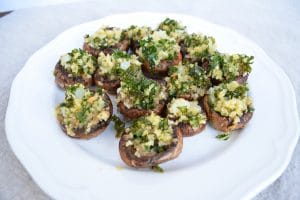 The stuffed mushrooms that I made growing up were quite different from these Kale Stuffed Mushrooms. They were basically breadcrumbs, garlic, herbs, mushroom stems, and cheese. But stuffed mushrooms can be very versatile, so whatever flavors or ingredients you have on hand would probably work great. The great thing about them is that as long as the stuffing includes garlic and breadcrumbs, they are a sure crowd pleaser.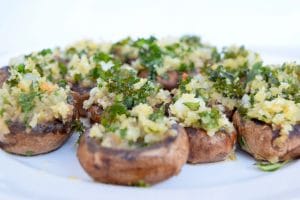 My son has been avoiding kale for a few months, despite my using it several times a week. He will use his little fingers to pick out kale that I've chopped up and mixed into his food. But these kale stuffed mushrooms seem to be the exception. In fact, he devoured over half of them, stuffing them into his mouth like they were chocolates. They may not be my grandma's stuffed mushrooms, but these are really delicious and a little healthier.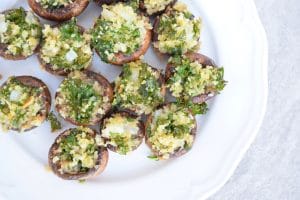 Kale Stuffed Mushrooms
Ingredients:
about 12 mushrooms, cremini or white button
1/4 cup breadcrumbs (wheat, panko, or gluten-free all work)
2 garlic cloves, minced
2-3 Tbsp minced shallot or onion
2 Tbsp minced parsley
1/4 cup kale, finely chopped
1/4 cup olive oil
salt and pepper
Directions:
Preheat the oven to 400 degrees F. Mix the breadcrumbs, garlic, onion/shallot, parsley, kale, olive oil, and seasoning in a bowl. Set aside.
Prepare the mushrooms by removing their stems and arranging them top side down on a baking sheet. Stuff each mushroom with a spoonful of the filling. Drizzle with olive oil and bake until tender about 20 to 25 minutes. Serve hot and enjoy!