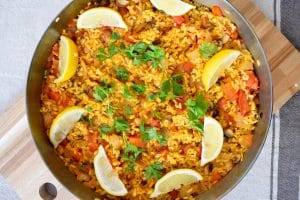 Like Italian tomato sauce, paella is one of those dishes that have a million variations and even more people assuring you that their recipe is "traditional" or "real" paella. Traditional paella comes from a particular time and place and follows a particular set of guidelines.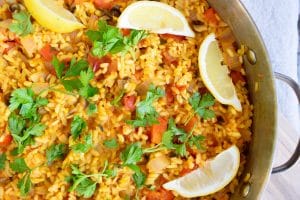 If you want to go back to what paella was originally, you have to go back to around the 18th century in Valencia, Spain. The Moors had brought rice to Spain many centuries prior, and several rice dishes had evolved with local ingredients. At first, it was just a rice dish made over an outdoor fire, probably with meat and beans added to it. Along the Valencian coast, this rice dish had seafood, the countryside included wild snails, and those abroad included both meat and seafood. Key ingredients like the rice, saffron, and paprika were included. The word paella simply means "pan", referring to the big, shallow pan that paella was made in. Eventually, the word paella was also used for the recipe.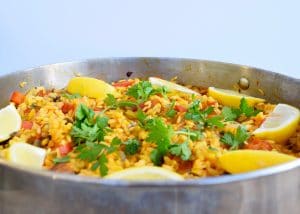 Valencia continues to pride itself as the makers of paella, and they even have a set of guidelines as to how to make it. It starts with a paella pan over an open, outdoor fire. Olive oil is heated and then meat and vegetables are cooked. Then comes the garlic, tomatoes, beans, and paprika to create what's called a sofrito. Before the rice is added, water is added along with rosemary and saffron. After the liquid has reduced a bit, a short grain rice is added and cooked until the liquid has been absorbed. The awesome crust that forms at the bottom of the pan is called socarrat and the dish is usually served right out of the pan in order to get this crunchy crust.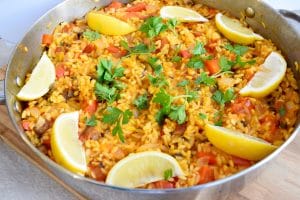 My paella is not traditional, nor am I going to pretend that it is. In fact, it's pretty far from Valencian paella. But my paella does use the original idea that you use what you have to create a rice dish that's smoky, rich, and delicious with slightly firm rice. You wouldn't find parsley or lemon slices in the paella of Valencia, but they are ingredients from my own food culture. I also chose not to use rosemary simply because this is a vegetarian dish and I wanted to add the freshness and acidity of parsley and lemons to create umami. And my pan? Definitely not a traditional paella pan, but any wide and shallow pan will do the trick. Remember, cooking is all about having fun and making good food, and this paella is really good food.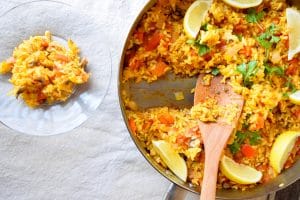 Vegetable Paella
Ingredients:
4 Tbsp olive oil
1 medium onion, diced
3 cloves garlic, minced
3 medium tomatoes, diced
1 red bell pepper, diced
1 1/2 cups finely chopped mushrooms
1 can butter beans, drained and rinsed (or great northern)
1/4 cup parsley, finely chopped
1 1/2 tsp smoked paprika
1 large pinch saffron
2 cups Arborio rice
3-4 cups vegetable broth
more parsley and 1 lemon for garnishing
Directions:
Heat the olive oil over medium heat in a paella pan or large, deep saute pan. Add the onions and cook until they begin to soften. Add the bell pepper and garlic and cook a few more minutes. Stir in the tomatoes, mushrooms, parsley, and paprika and cook for about 5 minutes. Add in the beans.
Add the saffron and the rice and cook for a minute or two to let the rice absorb the juices from the vegetables.
Pour 3 cups of the vegetable broth over the rice and stir to incorporate. Bring to a boil and then turn down to simmer, uncovered. Simmer for about 20 minutes, without stirring, until the rice is tender. If the rice is tough on the top layer, gentle stir in up to a cup more broth.
When the rice is cooked, turn up the heat to medium-high for a few minutes. This is to create a nice crust where the rice touches the pan. Turn off the heat and serve with lemon wedges and parsley.