I've mentioned before that most of my breakfasts are sweet and heavy on the fruit. I love a good tofu scramble every now and then, but without eggs, vegan savory breakfasts don't every pack enough oomph. So I've been experimenting a lot lately with different ways to start the day, the savory way.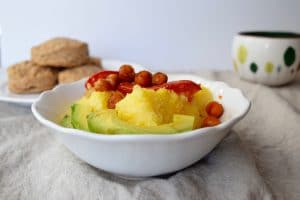 I discovered the magic of smoked paprika on chickpeas a little while back, and they're featured on my Smoky Chickpea Wrap recipe. The smoky flavor that paprika gives the chickpeas is reminiscent of, to me, bacon. Or at least what I remember bacon to be like. That aside, I discovered the secret formula to a savory vegan breakfast. You first need a grain, then a protein, then some vegetables, and flavorings/sauce. Sound familiar? Yup. It's basically a Buddha bowl, for breakfast.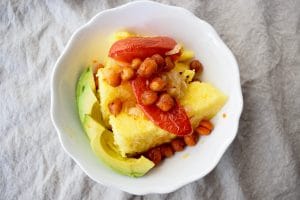 I mentioned this recipe to my mom, who asked me why it was a "breakfast" polenta. What made it so breakfasty? My answer wasn't my most stellar: "Because I had it for breakfast." But I think it's a really delicious way to start the day. Nutrient rich Italian polenta is served with smoky chickpeas (bacon-like flavors), roasted tomatoes (a nod to the English breakfast), and creamy avocado (an excellent breakfast item for the health conscious). And you know what? It works. It works really well. This breakfast or brunch or even morning snack is seriously delicious.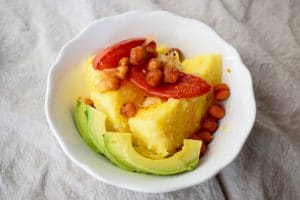 Savory Breakfast Polenta
Ingredients:
6 cups water
2 cups polenta/corn grits
2 Tbsp vegan butter
1 can chickpeas, drained and rinsed
1 tsp smoked paprika
1/2 tsp chili powder
3 cloves garlic, minced
4 Tbsp olive oil
4 Roma tomatoes, quartered
1/2 onion, diced
2 avocados, pitted and sliced
salt and pepper
Directions:
Prepare the polenta. Bring 6 cups salted water to a boil. Add the polenta and the butter and stir well. Reduce heat to simmer and continue to cook, stirring often, for about 25 minutes. Pour the polenta into a greased bowl and let cool so it firms up.
Prepare the smoky chickpeas. Preheat the oven to 425 degrees F. Pour the chickpeas onto a baking sheet and coat with 2 tablespoons olive oil, the paprika, chili powder, and some salt and pepper. Bake for about 25 minutes. About 15 minutes into the bake, stir in the garlic.
Prepare the tomatoes. In a casserole, mix the onions with 2 tablespoons olive oil. Top with the tomatoes, skin facing up. Sprinkle with salt and pepper and bake alongside the chickpeas until the tomato skin has wrinkled and the onions are translucent.
Serve the polenta sliced with the tomatoes, onions, chickpeas, and avocados on top. Drizzle with olive oil and enjoy!