Pumpkin season is upon us. The time when nearly everything on the grocery store shelves and in snack shops is pumpkin flavored. While I have many more fall inspired recipes to come, I wanted to start out with one that I make all the time.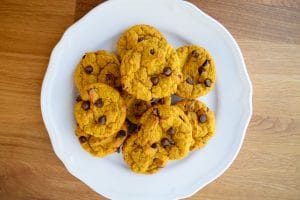 I've been excited about making chocolate chip pumpkin bread, it was something we always made this time of year. Most pumpkin bread or muffin recipes are very heavy on the sugar. It's a bit odd since winter squashes are naturally sweet, it seemed like overkill. But pumpkin can be tricky when baking with it, so the copious amounts of sugar helped to create a good looking and sweet treat.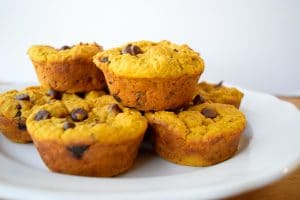 These muffins aren't very pretty, I'll admit that. And they are also much lower on the sugar scale, not to mention made with whole grains. But, oh my stars, these muffins are unbelievably good. Toning down the sugar made all the difference in highlighting the lovely pumpkin flavor even more. So these aren't your overly sweet, spiced muffins. These are pumpkin muffins, still sweet and so delicious. This recipe also works really well in a loaf pan.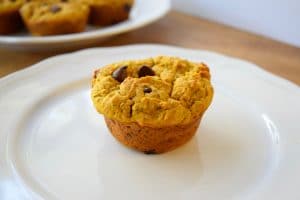 Chocolate Chip Pumpkin Muffins
Ingredients:
2 cups whole wheat pastry flour
1 tsp cinnamon
1/4 tsp nutmeg
1/8 tsp cloves
2 tsp baking powder
1/2 tsp salt
1 15 ounce can pumpkin puree
2 chia eggs (2 Tbsp chia seeds plus 8 Tbsp water)
1/2 cup vegan butter or coconut oil
1/4 almond milk
1/2 cup maple syrup
1/2 cup chocolate chips (for sugar free muffins, choose stevia sweetened chocolate chips)
Directions:
Preheat the oven to 375 degrees F. Grease or line a muffin pan.
In a large bowl, mix together the flour, spices, baking powder, and salt. In a separate bowl, whisk the chia eggs and vegan butter together until smooth. Add in the pumpkin, almond milk, and maple syrup. Stir until smooth and incorporated.
Gently fold in the chocolate chips and fill each muffin mold with batter. Bake for about 20 minutes, until a toothpick comes out clean.