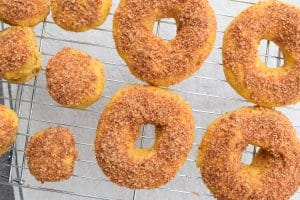 When I was growing up, we had this little donut shop down the street from our house. On an occasional weekend morning, we would walk to this little shop and take our pick of sugary goodness. I preferred the longer, twisted donuts with pink frosting, mostly because they looked the prettiest. In addition to the traditional fried variety, they also had cake-like chocolate donuts with sprinkles.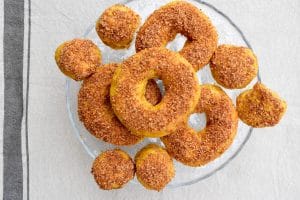 I've been wanting to make donuts for awhile but just haven't gotten around to it. Of course, there was the fact that I don't have a donut pan. However, donut pans are basically pans meant for cake donuts because you pour a loose cake batter into the donut mold and out comes a perfectly shaped donut. So that left me with yeast-risen donuts. In my opinion, yeast leavened donuts are the better choice. Cake donuts are still delicious, but in the end, they are cake shaped like a donut. A yeast donut has a light and airy interior that gives you that melt-in-your-mouth feeling when eating a donut. It's slightly chewy, the yeast basically create a donut-y texture.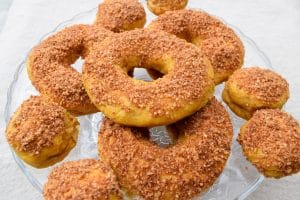 When I was choosing a flavor for my donut, I was really inspired by the creamy and sweet profile of butternut squash. Like pumpkin, this fall squash is incredibly versatile and can go from sweet to savory effortlessly. And the topping was an easy choice because walnuts are the perfect match for this butternut squash.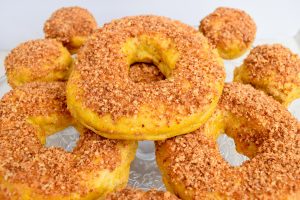 The donuts in the pictures are baked, not fried, mostly because I'm not a big fan of frying things. However, this recipe works for both baking and frying. Frying will give you a more true donut as it will be moister and chewier. Baking makes it more like a sweet bread, but it's still soft and chewy. Either way, these are amazing and sweet and taste just like fall.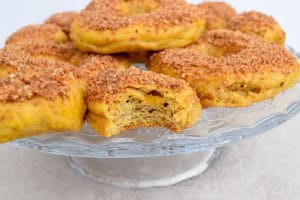 Walnut Crusted Butternut Squash Donuts
Ingredients:
1 butternut squash, peeled and diced (you can sub this with pumpkin)
1 Tbsp avocado oil (or other neutral tasting oil)
1/3 cup almond milk
2 Tbsp vegan butter
1 packet dry active yeast (about 2 1/4 tsp)
2 Tbsp coconut sugar
2 1/4 cups bread flour
1 tsp cinnamon
1/4 tsp nutmeg
1/4 tsp ground ginger
1/8 tsp allspice
1/2 tsp salt
optional: *If frying, you need about 4 cups vegetable or canola oil
For the topping:
1/2 cup walnuts
2 Tbsp coconut sugar
2 tsp cinnamon
2-4 Tbsp vegan butter
Directions:
Preheat the oven to 400 degrees F. Coat the squash in oil and bake in a covered casserole dish for about 40 minutes, until very soft. When it's cool enough to handle, put the squash in a blender or food processor. Puree the squash, adding a few tablespoons of water at a time, until smooth. Set aside.
Warm the milk and butter together until both are melted and incorporated. Add the yeast and sugar. Let sit for several minutes, until the mixture is foamy and the yeast activated.
In a large bowl, mix the flour, spices, and salt together. Add the yeasty liquid and 3/4 cup of the butternut squash puree. Mix well until a dough ball forms, it will be very sticky. Continue to knead the dough for several minutes. Then cover the bowl with a dish towel and set aside. Let rise until it doubles in size, about 2 hours.
Gently place the dough on a well floured surface and roll or press out in about 1/2 inch disk. Using cookie cutters, a donut cutter, or different sized glasses, cut out your donuts. Arrange them on a parchment paper or silicone mat covered baking sheet. Cover with a dish towel and let rise again, for about 40 minutes.
*If you are baking: Brush the tops with butter and bake the donuts in a 400 F degree oven for about 10 minutes, until it is just beginning to turn golden brown. You want them to still be quite soft. Let cool on a cooling rack to firm up a little more.
*If you are frying: Heat the oil in a medium saucepan over medium heat for around 5 to 10 minutes. You don't want it too hot, so test the oil with a few drops of water. If it bubbles, it's ready. If it sputters and goes wild, turn down the heat. Place a donut in the oil one at a time and cook on each side for a few minutes, until golden. Let drain on a paper towel.
Make the topping by putting the walnuts, coconut sugar, and cinnamon in a blender or food processor and pulsing until a coarse powder is made. Brush each donut with butter and dip them into the walnut mixture. Enjoy!