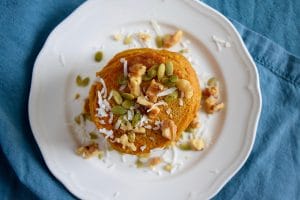 Today is the first day of fall and to celebrate, I have a really special recipe to share. We started out the day with a spontaneous trip to Balboa Park, which is San Diego's place of museums and gardens. It's one of my favorite places to go because it's just so beautiful there, even if we don't go into any museums.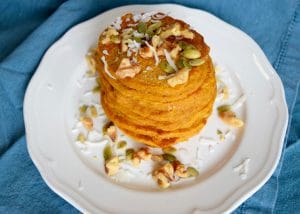 The recipe to celebrate today is another pumpkin recipe, but I wanted to try something a bit different. So, I used curry powder instead of pumpkin pie spice to make these pumpkin pancakes. And now I'm questioning my whole perspective on pumpkin goods.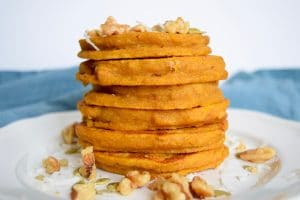 The curry powder mixes so perfectly with the flavor of the pumpkin, it tastes meant to be. They have a slight hint of the savory, to balance out the sweet, but it works phenomenally. I'm really excited to try out this flavor combination in other dishes, but this is probably my new go-to fall breakfast. So delicious!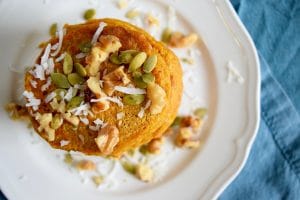 Curry Pumpkin Pancakes
Ingredients:
2 cups spelt flour
2 tsp baking powder
1 tsp salt
1 tsp curry powder
1 1/2 cups almond milk
1 cup pureed pumpkin
2 Tbsp coconut sugar
2-4 Tbsp coconut oil or vegan butter
Toppings such as: pumpkin seeds, walnuts, coconut, maple syrup
Directions:
In a large bowl, mix together the flour, baking powder, salt, and curry powder. In a separate bowl, whisk the milk, pumpkin, and sugar. Pour the wet into the dry and mix only until just incorporated.
Heat the oil in a pan over medium heat. Add the pancake batter about 1/4 cup at a time (depending on how big you want the pancakes). Cook until the batter is bubbling and then flip to brown the other side. Serve immediately with your topping of choice.